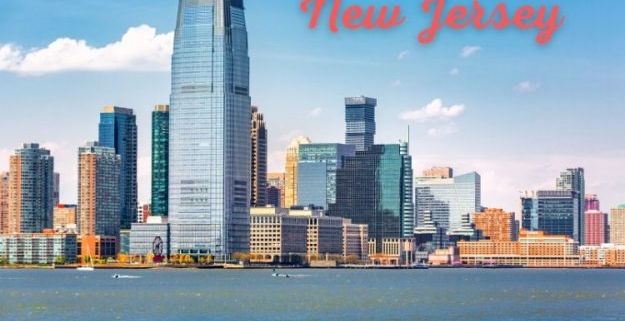 New Jersey serves as the headquarters for some of the largest pharmaceutical companies in the world and is known for its sprawling suburbs, manufacturing capabilities, pristine shorelines and its 861,000 small businesses. However, high taxes, bloated state budgets and little support from the state government has always made it a tough place for small businesses to thrive in. 
Those difficulties were compounded by the COVID-19 pandemic, which hit the Garden State's small business community harder than 2013's Superstorm Sandy. From restaurants along one of the state's many boardwalks to retailers in one of the state's 52 cities, roughly one-third of small businesses temporarily or permanently closed between 2020 and 2021. Many continue to struggle to stay afloat to this day, especially with spiking inflation, interest rate hikes and another recession looming.
Fortunately, there are several grant programs and contests available on both a national and state level that can help those small businesses survive and grow. 
On a national level, there are grants and contests that are still open that can land you a large pool of money and are worth applying for:
Kapitus' $250K Building Resilient Businesses Contest – Deadline is Looming!
Kapitus has launched its Building Resilient Businesses contest, in which one first-place winner will receive $100,000; one second-place winner will receive $50,000 and five third-place winners will each receive $20,000. 
To enter, simply send a homemade, 2-minute video briefly describing your business, how it was able to persevere over the last two years, and how you would spend $100,000. The contest is open to all small businesses in the US (excluding Vermont and Colorado) that have been in business for at least a year and have less than $5 million in annual revenue. The deadline to apply is June 30, 2022. To enter the contest, click here.
WomensNet Amber Grant
WomensNet gives away one $10,000 grant and four $1000 grants to women-owned businesses in distinct categories every month such as skilled trades (January), hair care and beauty products (August) and Creative Arts (October). The site also gives grants of $25,000 to two businesses each at the end of each year, with both of them being previous $10,000 monthly grant winners. Applications are due on the last day of every month. To apply, click here. 
American Express and Main Street America's Inclusive Backing Grants
AmEx and Main Street America are providing more than 300 grants of $5,000 each over four cycles throughout 2022 to small businesses located in older or historic commercial districts with priority to be given to small businesses owned by the LGBTQ+ community, Hispanic-owned, veteran-owned, and business owners who are women and people of color. 
Applications for the fourth grant cycle are now being accepted by business owners who identify as native or indigenous people, Hispanic, LGBTQ+ and immigrants and refugees. Membership in the National Main Street Center is not required. Applications for the fourth grant cycle can be found here.
Skip Monthly Business Grant
Skip is a California-based social media company that helps both people and businesses get access to government-related services and information and is part of YoGov.org. Every month since March 2020, Skip uses revenues from its YouTube channel to award $1,000 grants to small business owners as well as free services and information. The winner is announced on its YouTube channel on the third Wednesday of every month. For more information and to apply, click here.  
State Level: Open to New Jersey Small Businesses Only
Despite the fact that most of the pandemic-related federal aid to small businesses has dried up, the state is still offering several grants and inexpensive financing opportunities to assist small- and micro-businesses:
The Small Business Lease Grant
The NJ Economic Development Authority (NJEDA) is administering grants to help small businesses and nonprofits with physical locations pay their rents. The $10 million program was funded by the NJ Economic Recovery Act passed in 2021 and is being funded by the state's Main Street Recovery Finance Program. 
The idea behind the program is to assist in filling vacant lots across the state and assist in the growth of small businesses. Applicants must have a new or newly amended lease that is at least 250 sq. ft. larger than their previous space, and the lease must be for a minimum of five years. Deadline is ongoing, and funding amount depends on the business. To learn more, click here. 
New Jersey State Trade Expansion Program (STEP)
New Jersey has always been a major hub for international trade due to its many marine ports, such as the Port Newark Container Terminal, the Port Jersey container terminal in Jersey City and South Jersey Port Corp. in Camden. 
As such, the NJ State Trade Expansion Program (STEP), in conjunction with the US Small Business Administration, are offering year-round grants to small businesses in the state that are new to overseas trade or sell their products and services overseas. Applicants must have been in business for at least one year at the time of application and manufacture goods or produce services that are at least 51% US content. To learn more, click here.
NJEDA Small Business Improvement Grant Program
NJEDA is awarding grants of up to $50,000 to assist small businesses with physical locations in making improvements and upgrades to their buildings, as well as with purchasing new furniture, office equipment and fixtures. The project costs must be at least $5,000 and must have been at most two years prior to the date of application. 
Total project costs that exceed $50,000 will be subject to Green Building Standards, and applicants that use at least four workers may be subject to affirmative action requirements. Applicants will be awarded on a first come, first served basis. There is no set deadline for application To learn more about the grant program and apply, click here.
Main Street Micro Business Loan Program
NJEDA also oversees the Main Street Micro Business Loan Program. While this is not a grant program, it is popular among very small businesses in the state because it provides long-term, low interest loans to businesses in the state with 10 or fewer employees and annual revenues of no more than $1.5 million. The maximum term for these loans is 10 years and carry an annualized interest rate of 2%. The applicants must have been in business for at least six months. No collateral is required for the loan. To learn more and apply, click here.
Free Money is Better than Attitude!
Best selling author Janet Evanovitch once described New Jersey as a place "where dignity always runs a poor second to getting in someone's face." While the state's small business owners may be tough and have attitude, they're still going to need help, especially in the economically volatile times we're living in. If you do own a small business in the Garden State, keep the door open to any new opportunities for free money.
https://kapitus.com/wp-content/uploads/New-Jersey-heading-facts-625x416-1.jpg
416
625
Vince Calio
https://kapitus.com/wp-content/uploads/Kapitus_Logo_white-2-300x81-1-e1615929624763.png
Vince Calio
2022-06-22 17:31:46
2023-09-27 12:14:40
Small Business Grants Still Available in New Jersey