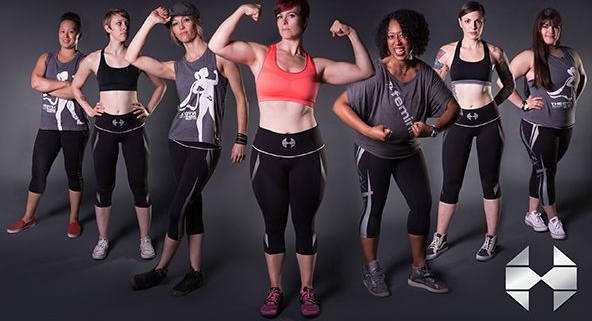 BRB Stories: Healing Relationships with Body & Fitness
Congratulations to Superfit Hero, a Los Angeles-based small business that provides premium activewear for plus-sized women, for being named a third-place winner of Kapitus' inaugural Building Resilient Businesses contest! Superfit Hero will receive $20,000 to help improve its business.
From Roller Skating to Workout Gear
It's not often that one can use the words "roller derby", an often-violent contact sport, and
"entrepreneurism" in the same sentence, but in the case of Superfit Hero's founder and CEO, Micki Krimmel, the two go hand-in-hand. Krimmel was a skater for the Angel City Derby team for nearly 8 years, and during that time, she came up with the idea of creating fashionable active sportswear for plus-sized women.
Krimmel credits playing roller derby for bringing out her inner athlete, as well as finding the will to stop being self-judgmental about her appearance. 
"I began playing roller derby around the same time I started my company," said Krimmel. "What I thought was going to be a fun hobby quickly became much more than that. Roller derby became the most central part of my identity. For the first time in my life, I was an athlete.
This transformation proved nothing short of revolutionary. My entire relationship [with] my body changed and my confidence soared as a result. Like most people, I had a rocky relationship with my body and with fitness over the years. 
"I tried every diet, every fitness program, and I never felt like I was good enough. Once I began to think of myself as an athlete, my mindset completely shifted. Fitness became about performance instead of appearance…I applied this newfound confidence to every aspect of my life, including my business. As an athlete, I became increasingly frustrated with how fitness was being marketed to women. We are bombarded with constant messages that remind us of our inadequacy."
Filling a Need
Krimmel has had an entrepreneurial spirit her entire career. In 2009, she founded Neighborgoods, a pioneering firm in the sharing economy, and served as a mentor for Code for America, a consultancy program for civic startup companies. When her career in roller derby was over, becoming an entrepreneur once again was a natural fit for her, especially given her new-found passion for helping women of all sizes get physically fit – a niche that had gone relatively unnoticed until Superfit Hero came along.
As the New Year approaches and many of us make resolutions to get physically fit, Superfit Hero is here to help plus-sized women keep that goal while encouraging them to be proud of their bodies. 
"Women are supposed to look a certain way, act a certain way, and fitness is a tool we use to conform to those ideals and as a punishment for not doing so," said Krimmel. "I was frustrated that the real benefits of fitness were hidden behind these traditional marketing messages of the fitness industry. We all have the capacity for joy in movement. We all have the right to feel at home in our bodies. You don't have to look a certain way to participate in fitness and enjoy the benefits. All you need is a body – any body."
Manufacturing Woes
Like with all entrepreneurs, Krimmel faced some huge challenges when she launched Superfit Hero in 2015, with the biggest one being manufacturing. Krimmel found that despite Los Angeles being one of the biggest fashion and manufacturing capitals in the world, most of the factories in the city were geared to serve the larger retailers. 
In the first two years, Krimmel used six different factories and constantly ran into inventory shortages as a result. Krimmel was eventually able to find a manufacturing partner as well as slowly built a network of manufacturing hubs.
"I'm in a much more secure place in that I now have more options and a bit of leverage that comes with larger order sizes," she said. 
A Passion for her Mission
Krimmel is just as committed to building a brand of plus-size fitness clothing so that no woman feels ashamed of or excluded from becoming physically fit, especially when they work out in public. Since launching, Superfit Hero continually offers new bundles of activewear, including its Daydream Eco-Leisure line, while continuing to offer its best-sellers such as its Superhold line of leggings and sports bras.
"My vision for the world is a future where the natural diversity of body shapes and sizes is celebrated, and everyone is welcome to participate in the fullness of life regardless of their size or ability…Superfit Hero is the world's most inclusive line of premium plus size activewear with sizes L-7X," said Krimmel. "Our mission is to make fitness and movement more inclusive and empowering for women. Over 68% of American women wear plus sizes but only 8% of fashion brands serve them. 
"Working with our community, we've spent years perfecting our fit for plus size bodies. We have established our brand as a leader in the plus size fashion industry. We partnered with Kohl's to bring our entire size range to stores across the country. For many of our customers, this was the first time they were able to try on their size in-store anywhere."

Marketing Expansion
Krimmel said that the company's goal is to increase its reach through digital advertising and expansion, and the $20,000 from Kapitus' BRB contest will help with those efforts.
"We are looking to hire a marketing director and increase our reach via digital advertising to expand our impact to a wider audience," she said. "We've proven that we have what it takes to get our brand off the ground and now we need your help to get to the next level. Thank you for your support." 
Learn the stories of all of our small business winners:
BRB Stories: After Devastating Setback, Play Pits Takes First Place in Kapitus' BRB Contest!
BRB Stories: Relying on Faith and Passion for Business Success
BRB Stories: Creating Libraries-worth of Unforgettable Memories!
https://kapitus.com/wp-content/uploads/2022/12/superfit-hero-athletes-0214b928fdae492a9ead2c81cacbc181.jpg
400
592
Vince Calio
https://kapitus.com/wp-content/uploads/Kapitus_Logo_white-2-300x81-1-e1615929624763.png
Vince Calio
2022-12-14 16:55:45
2023-12-04 15:48:31
BRB Stories: Healing Relationships with Body & Fitness