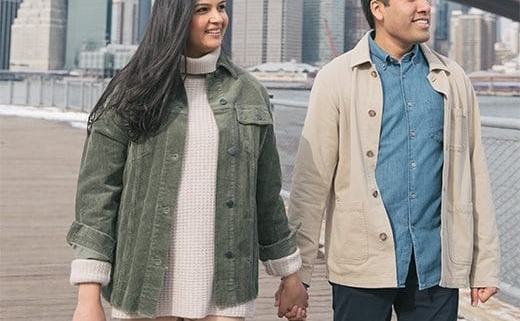 With Clarity creative marketing – rethinking a tried and true industry
It can be hard to get attention as a small business. It's especially difficult when you're competing against larger, established firms with much deeper advertising budgets. But, these established companies are set in their ways. They don't have the same flexibility that you do. This is one way for your business to stand out. With Clarity, an online retailer of engagement rings, is shaking up the traditional jewelry industry. Their business uses 3D printing to create samples of engagement rings. This way, people shopping online can try them on at home before buying.
We spoke with Slisha Kankariya, co-founder and CMO, to see how they were able to rethink such a tried and true industry.
Spotting an Opportunity
Kankariya launched With Clarity with her husband Anubh. "His family had worked in the diamond and jewelry industry for three generations, so we decided to delve back into that space. However, we didn't want to go the traditional route and run With Clarity just like every other jewelry store in the country."
They noticed that while people shop online for many other products, it's still quite rare for high-end jewelry. "90 percent of people look for engagement rings online, but only 10 percent of sales actually happen online. This is a missed opportunity for customers because there is more variety on the internet plus prices are typically 30 to 40 percent lower."
Before opening, they spent time speaking with their customer base to find out why they were reluctant to shop online. "We realized that people have this fear of commitment for such a major purchase. They aren't confident buying something they haven't touched, haven't seen sparkle." They realized then that 3D printing could be the answer.
Benefiting from a Unique Business Model
Through 3D printing, With Clarity offers a home preview option for their online shoppers. People can pick out their two favorite options from the website and With Clarity will create sample rings for both, using simulated diamonds and a metal alloy that looks just like gold/silver. "The timing was perfect to launch this new model as 3D printing has gotten more affordable and effective."
Kankariya noted that there are many benefits to her customers as well. "It gives them more options, especially people living in an area without many stores nearby. Plus, they don't have to meet face-to-face with a pushy salesperson."
With Clarity's unique approach has gotten them plenty of attention as well. They were able to land investors and mentors through a New York technology accelerator plus their business has been featured in media outlets like Inc., Entrepreneur and Fox Business. If they had gone the traditional route, it would have been more difficult to get this kind of press, especially while competing in a saturated market.
Rethinking Your Own Industry
We asked Kankariya how other business owners could shake up their own industries. She believes it starts with a customer-based focus. "Try to look at the World through the lens of your customer, not your perspective as a business owner. Ideally, you should find a unique way to solve one of their problems."
Whether it's better pricing, more variety, supply chain transparency or a more convenient sales system, you need only one element that's truly different from your established competitors. When you find it, make it the focal point of your business.
Kankariya pointed out that it's ok to be niche as well. "Since we launched, the market share of people buying rings online has grown from 10% to 14%." Despite the sizable jump, the majority still shop in-person. However, those that use With Clarity are pleased with their experience. With Clarity is building a loyal and growing customer base. A successful small business doesn't need to capture the entire market so long as they do well in their niche market.
Rethinking a tried and true industry isn't easy, but With Clarity shows it definitely helps you stand out. By adjusting your business model, you could receive plenty of marketing attention even without paying for advertising. This is just one more way you can do more with less.
https://kapitus.com/wp-content/uploads/2020/01/founders-with-clarity-desktop-e1578324234476.jpg
468
520
Wil Rivera
https://kapitus.com/wp-content/uploads/Kapitus_Logo_white-2-300x81-1-e1615929624763.png
Wil Rivera
2020-01-06 12:02:54
2022-02-16 13:46:38
With Clarity creative marketing – rethinking a tried and true industry