Over 200 Small Businesses Told Us How They're Attracting Workers, and Gave Some Surprising Answers
How can small businesses compete for talent with large corporations that can afford to pay workers higher wages? The question has been plaguing SMB owners ever since Texas A&M business school professor Anthony Klotz coined the term "The Great Resignation" last year. 
Since then, the quit rate measured by the Bureau of Labor Statistics showed that nearly 4.4 million workers quit their jobs last month and attracting new workers is still a major concern. Additionally, US small businesses – especially those with 19 or fewer employees – saw a total decrease of 96,000 employees between January 2022 and February 2022, according to a report from payroll services provider ADP.
In an informal poll, Kapitus asked 213 small businesses across the US that very question, and the most popular response, unsurprisingly, was that they are offering workers more flexibility in when and where they work. The second most popular method of attracting workers was the somewhat opaque answer of offering a strong company culture. 
The third most popular answer may come as a bit of a surprise: many small business owners – especially in the eCommerce space – said that improving the way they interview job candidates has had a high degree of success (10 out of 11 responding eCommerce companies emphasized this), although many of them took different approaches in doing this. 
Overall Responses
Kapitus collected responses from 213 small business owners in various industries after asking the open-ended question of "How are you hiring workers when you can't afford to pay those workers more than larger companies can?" The question was posed on Cision's Help a Reporter Out (HARO) platform, and responses were collected between March 23 through March 25. 
Of course, a pool of 213 responses is not large enough to quantify as an official survey. Rather, this article is meant to provide a casual, overall snapshot of how small businesses are dealing with the challenge of hiring workers when they don't have the resources to offer substantially higher pay to workers than larger companies.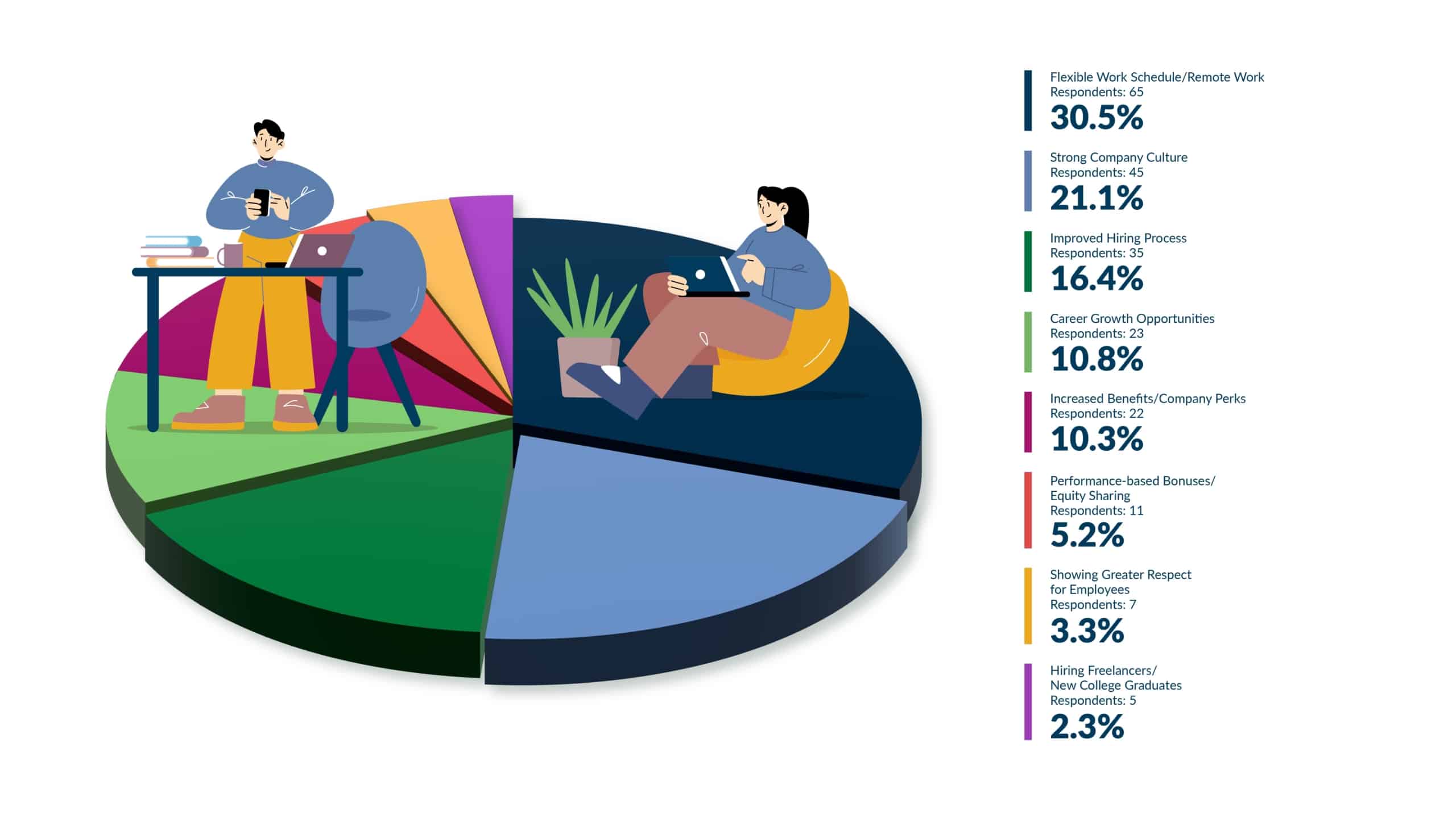 The responses given were broken down into eight different categories, each defined by what small businesses are doing to attract workers:
Small Business Owners say…
While some responses require little explanation, others are vague. Small business owners that responded to our query defined areas such as "Improved company culture" and "Greater candidate evaluation" in detail, while with some of the obvious categories such as "Flexible Schedules/Remote Work" are being practiced in different ways by different small businesses. 
Here are explanations from actual small business owners on what these categories mean. 
#1 Offer Flexible Scheduling – Four-Day Work Week?
Many small businesses emphasized that allowing workers to set their own schedules or work from home is the number one key to attracting employees, especially if you can't afford to match what larger competitors may be offering them. Some small businesses, such as Electrician Mentor, have even begun offering four-day work weeks to entice applicants.
"You can go to this company and make a six-figure salary or come to us and have a four-day work week, unlimited vacations, and the freedom to work on the projects you desire the most," said David Welter, Electrician Mentor's owner. "You can go somewhere with a great 401(k) program, but we'll pay for your career advancement training. So far, this strategy has served us well because now, we're staffed with a happy and loyal workforce." 
Dan Skaggs, CEO of One Thing Marketing, said that allowing his employees to work from home saved his company on rent, and he was therefore able to provide them with a comprehensive health insurance plan, which further attracted workers.
"Our employees preferred to work from home because they could save money on commuting and food at the workplace. This helped me cut back on the costs of renting the building and utilities," said Skaggs. "This gave me the perfect opportunity to introduce a comprehensive health insurance plan for the existing and new employees. Due to the upgrade, a lot of applicants agreed to work for me." 
#2 Offer an Inclusive, Friendly Culture
Although the "Offering a Strong Company Culture" is a bit vague, many respondents who gave this answer generally defined this category as making the workplace more pleasant for workers through various means. 
One such business owner who believes in offering a great workplace culture is Daniel Rubenstein, founder of healthcare company Reset IV. 
"People are recognizing that life is too short, and they don't want to spend it in some boring office," said Rubenstein. "Make your office culture-friendly, inclusive, and fun. Do employee features on social media, offer awesome employee perks, and show job candidates that people enjoy working at your company."
Mark McShane, owner of Skills Training Group, emphasized inclusion, empathy for employees and a supportive environment in his company's culture. He also emphasized that it's important to advertise that on social media, where most potential applicants now are hunting for jobs. 
"Building a social media presence that amplifies your team culture will pay dividends in the long run," he said. "You need to lead with transparency and show people what it's like to work in your office."
Kathryn McDonald, CEO of beauty and fashion eCommerce company Editor's Pick, defined a positive company culture as one that promotes an entrepreneurial environment.
"It essentially entails creating a climate that encourages people to experiment, create and take measured risks," she said. "It provides employees with freedom, flexibility, and reduces the necessity for work/life balance discussions" because employees will be enjoying their work.
#3 Improve Your Hiring Process
Improving your business' hiring process by carefully vetting candidates and not putting them through long, labor-intense interview processes should give your small business a hiring advantage over your larger counterparts, said many respondents. 
"Today, people are trying to find their next job whether to start, as a stepping stone or to pivot," said Erik Wright, owner of New Horizon Home Buyers. "It takes almost three months, sometimes longer from applying to hiring. That can weigh heavily on people and even discourage them from looking further. Having a quick turnaround could turn a talented and seemingly out-of-reach individual into a skilled employee."
Rohit Bimbra, founder of Home Healthcare Shoppe, emphasized that SMB owners should probe candidates during the interview process to determine whether they share similar values and beliefs as the company, and then describe to them all of the aspects of your business that may appeal to them. 
"During the interview, inquire about their objectives," said Bimbra. "What do they hope to get from this job? Hire people who can work toward their own goals while helping you reach yours. Then assist them in becoming successful."
#4 Emphasize Career Growth Opportunities
Obviously, few employees want to work a "dead-end" job that has little prospect for advancement, and therefore, it's crucial that you let candidates know that there is room for growth in the position you are offering. 
"Explain to employees and candidates the plan for their career development and advancement in your company and establish a system of regular feedback, on a weekly or monthly basis, " said Mike Sheety, owner of That Shirt, adding that growth opportunities also encourage employee referrals. "In practice, we have been convinced several times that hiring through referrals is a very good idea."
#5 Perks Work
If you can't match the salaries being offered by your larger competition, you may find success in attracting talent by offering company perks such as sign-on bonuses, social activities and workplace wellness programs as a way of saying thank you to your employees, said several respondents. 
"Some great perks would be allowing your workers to work flexible hours, surprise company trips, mental health days, and a free lunch buffet every month," said Marty Spango, owner of Bia Coffee. 
Maria Flores, COO of marketing firm Media Peanut, said it's important to work with your business' HR department (if you have one) to lure talent by providing greater benefits. 
"We offer care packages, allowances, and additional health benefits, as we value the physical and mental health of our employees," she said. "We also offer free education or skills development training, and allow them to take additional skills training classes whenever possible. 
#6 A Piece of Ownership Goes a Long Way
Some small businesses suggested offering employees equity in the company can go a long way, and if it's not possible to offer equity, then offer performance-based bonuses to attract and retain talent. 
"When it comes to hiring and maintaining key team members, sharing ownership or company stock can help," said David Reid, sales director at VEM Tooling. "Senior team members and recruits may be encouraged to stay and see their shares grow. Generally, flexible schedules, bonuses, extra vacation time and pieces of equity can help us attract talent for hard-to-fill roles."
Performance-based bonuses also go a long way in retaining and motivating current and prospective employees. 
"When small businesses can provide performance bonuses, flexible work schedules and complimentary lunches, they stand out," said David Wurst, owner of cybersecurity firm WebCitz. "An ambitious individual looking for autonomy, flexibility and advancement will definitely value your offer."
#7 Show Some Respect
One of the major keys to recruiting is treating your employees with respect, said some of the respondents. This means showing empathy, genuinely caring about their well-being and recognizing their accomplishments. 
"Treating current employees with respect enhances referrals to top talent when an opportunity arises," said Leslie Radka, founder of Great People Search. "Training, advice and experience enhance the attraction of potential employees."
Brad Hall, founder of Sonu Sleep, added, "Paychecks come and go, but things like respect and recognition are harder to come by when it comes to the corporate world. Be competitive in not just your salary offer, but your treatment towards your employees."
#8 Outsource; Hire Them Young
A somewhat surprising response category was small businesses resorting to hiring recent college graduates or employees with little experience as a relatively affordable and effective way to woo job candidates – if you are willing to invest in and train them.
"The pandemic brought many negatives with it, one of them being the lack of employment opportunities for college grads," said Lauren Proctor, marketing director at BenchmadeModern. "The fact that I started hiring this young, raw talent was a win-win for both parties. After all, these young individuals had a job, and I had an efficient team of employees. The best part was that these young people were full of energy and determination to perform well."
Outsourcing work to outside contractors has also helped alleviate the hiring dilemma, according to Aaron Traub, owner of HVAC Marketing Engine. "We have been utilizing Upwork frequently lately," he said. "We've been able to hire quality freelancers affordably for content strategy, data entry, content production and more."
Responses by Industry
Kapitus broke down small respondents into 16 general industry types, with retail (non eCommerce) being the most popular with 39. Some of the categories, such as construction, are self-explanatory, while some need to be defined. A basic definition of some of the categories is as follows:
Retail companies

(18.3%) are businesses that primarily sell products from a physical location but can still have an eCommerce presence as well.

Online services

(17.4%) companies are web-based companies that provide tangible services – but not physical products – to customers.  

Business Services (14.6%)

are companies that provide services to large companies, although we separated out branding/marketing and law firms from this group to offer a more exact analysis.

eCommerce businesses (6.1%) are companies that only sell their products through eCommerce platforms.
Food Services (6.1%companies comprise restaurant owners and companies that sell food-related products and services, such as one of the respondents,

Kitchen Community

.

Technology companies (2.4%)

are companies that produce technology not related to the Internet.

Educational support providers

(1.9%) are companies that provide learning services to both students and adults such as

becomeanything.com

.
Conclusion
While this is not an official survey, the small business owners who responded have made it clear that the way companies searched for talent before the Great Resignation have been quickly outdated, much in part due to the COVID-19 pandemic where many workers got a taste of working from home. It's clear from the results that attracting workers is more than just offering a fat paycheck. Offering flexible hours and remote working situations have become critical in attracting workers. 
SMB owners can't treat their employees like numbers and must concentrate more on providing a robust and empathetic workplace that offers a plethora of perks if they are to survive the continuing worker shortage.
https://kapitus.com/wp-content/uploads/2023/03/Job-Interview.jpg
1333
2000
Vince Calio
https://kapitus.com/wp-content/uploads/Kapitus_Logo_white-2-300x81-1-e1615929624763.png
Vince Calio
2022-05-09 11:55:15
2023-03-16 13:23:29
Over 200 Small Businesses Told Us How They're Attracting Workers, and Gave Some Surprising Answers