Ways Female Entrepreneurs Can Recover After the Pandemic (updated 3/30/2022)
Woman-owned businesses – especially those owned by women of color – bore the brunt of the recession caused by the COVID-19 pandemic, and need help to claw their way back.
The reason women-owned businesses in the U.S. were hit harder than most is because, according to a study by the U.S. Chamber of Commerce Foundation, many of the businesses are run by "mompreneurs" – in fact, 90% of them have no employees other than the business owner and involve selling merchandise over the internet. Additionally, many women started their own business during the pandemic because they got furloughed or laid off, and childcare centers closed.
Access to Funding Curtailed
This made getting loans from the Paycheck Protection Program or SBA impossible for them, as those loans require years in business and a certain number of employees. A number of grant programs exist for women-owned businesses, but according to a study of nearly 1,200 women-owned businesses by Gusto, the ones that are out there are not enough to help sustain the number of women-owned businesses. 
According to Gusto's survey, the vast majority of women-owned businesses (68%) funded their business through their own personal savings.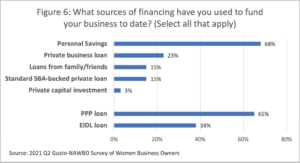 "Women are disproportionately owners of foot-traffic-based companies," said Sarah Gustafson, lead data scientist at Gusto. "What we saw is that female-owned businesses have had larger net losses in their headcounts [during the ongoing pandemic] than male-owned businesses."
Shouldering the Burden
While women-owned businesses face the same challenges as any small business owner, they also face unique challenges such as childcare. In particular, minority women drove business creation during the pandemic, according to Gusto's study. Nearly half (47%) of businesses started in the past year are minority-owned. 
Their reasons for starting a new business were overwhelmingly driven by financial imperatives. Minority women were more than twice as likely (35% vs. 17% for others) to start a new business because they were laid off or worried about their financial situation. Almost a third (29%) of these women are the sole providers of income for their family. 
The main reasons given listed by Gusto for women to start their own businesses are:
58% of women want more control over their work schedule;

24% wanted to start a business that they could pass on to their families;

37% were looking to improve their financial opportunities;

19% lost their jobs, and

9% didn't have any other job opportunities. 
Steps Towards Economic Recovery
Obviously, not all women-owned businesses are the same, but whether you own a retail store, catering service, an office-based company or beauty supply shop, there are still uniform steps you can take, as well as apply for grant programs that are available to you.
The first step you may want to take as a woman business owner is to certify yourself as such with the Small Business Administration so that you can compete for lucrative contracts:
Officially

certify yourself

as a woman-owned business with the SBA. This will qualify your business for the

SBA 8(a) Business Development Program

– a program that allows women-owned businesses to:
Compete for 

set-aside and sole-source contracts

 in the program;

Get a Business Opportunity Specialist to help navigate federal contracting;

Form joint ventures with established businesses through the SBA's Mentor-Protégé Program;

Receive management and technical assistance, including business training, counseling, marketing assistance, and high-level executive development;
You can compete for contract awards under multiple socio-economic programs, as they apply. To qualify for the program, you must have a personal net worth of $750,000 or less and a gross income of $350,000 or less. 
Grants for Women-Owned Businesses
There are also several private grants, many of which are specific to women-owned businesses, that you can apply for as the economy slowly recovers from the pandemic:
The Small Business Builders Grant Program
Private equity giant KKR has launched the seventh round of its Small Business Builders Grant program aimed at women-owned businesses. The program will give away $10,000 grants to businesses that are at least 51% owned by women. Qualified businesses also must have had $7 million or less in gross revenue in 2021 and have somewhere between five and 50 employees.
The Eileen-Fisher Women-Owned Business Grant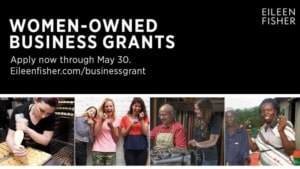 The Eileen-Fisher Women-Owned Business Grant awards five grants up to $120,000 per year to woman-owned companies that promote social and environmental change. Your business must have existed for at least three years, and you cannot have earned more than $1 million in annual profits.
Visa's She's Next program
The Visa She's Next grant is awarded to African-American women-owned businesses. In order to apply, you must have been in business for at least two years, be a B2C company, and have a minimum revenue of at least $24,000.
Amber Grants
The Amber Grant is one of the easiest grants to apply to. It is geared towards female entrepreneurs who are planning to launch small, local businesses and awards $10,000 every month. At the end of the year, one of the monthly winners is selected for a $25,000 grant. To apply, all you need to do is go to the website and explain the purpose of your business.
Cartier Women's Initiative Award
The Cartier Women's Initiative awards 21 female entrepreneurs every year with one-on-one expert coaching, business workshops, media coverage for the entrepreneur and their business, and prizes ranging from $30,000 to $100,000.
IFundWomen Universal Grant program
The IFundWomen Universal Grant Program  partners with several different organizations to bring grant opportunities to women-owned small businesses which has a grant pool of over $8M. Grants are available to many different types of women-owned businesses.
GrantsforWomen.org
GrantsForWomen.org  is a versatile program that is a database of grants specifically for women-owned businesses. Not all grants are specifically for women-owned business owners, but they offer funding options in a wide range of industries. 
37 Angels 
37 Angels is a great program for women entrepreneurs who are seeking start up capital for their respective businesses, as it is made up of female angel investors that invest only in women-owned small businesses. The organization is dedicated to assisting female entrepreneurs who do not qualify for traditional lending, and offers grants as large as $150,000. 
Belle Capital 
Belle Capital is a private equity firm focused solely on women-owned businesses, and is ideal for female entrepreneurs who plan to take their company public or have a big exit strategy planned over the next few years. Some of their criteria include the feasibility of the business reaching $20 million in revenues over the next five years, and high capital proficiency. 
Going Forward
While there are grants available to women-owned businesses, female entrepreneurs also need help from the government. According to Gusto's survey, most women-owned businesses favor President Biden's proposed infrastructure plan that aims to increase broadband access across the nation, as the number one concern for women-owned businesses is having greater access to the internet.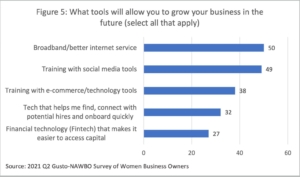 Hiring concerns and the need for more training, particularly in the eCommerce space, also represent the greatest need for women-owned businesses, as well as expanded access to capital, both in the traditional lending space and the private equity market.  
You can find training courses online (and some of them are free!) on how to use eCommerce for your business and how to best navigate your way through social media.
https://kapitus.com/wp-content/uploads/Women-owned-business-8.6.21.jpg
1427
2100
Vince Calio
https://kapitus.com/wp-content/uploads/Kapitus_Logo_white-2-300x81-1-e1615929624763.png
Vince Calio
2021-08-16 08:00:15
2022-03-30 19:43:23
Ways Female Entrepreneurs Can Recover After the Pandemic (updated 3/30/2022)