TikTok Surpasses Google, and SMB Owners Should Take Notice
TikTok reached an extraordinary milestone in 2021 when it surpassed Google and Facebook as the most popular domain in the world, according to Cloudfare Radar, although the data compiled did not combine Google's traffic with that of its YouTube subsidiary, nor did it combine Facebook traffic with that of Instagram.  
What the milestone confirms, however, is that small businesses can't simply view TikTok as the offbeat, mobile social video platform that was introduced to the US in 2017. Rather, it is now up there with the likes of Facebook and Instagram as a social media marketing and advertising force – especially for companies looking to market to Millennials and GenZers. 
Strength in Numbers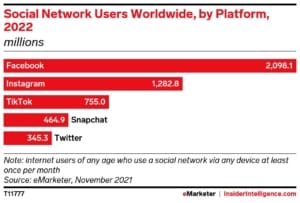 While most companies focus their online marketing and ad strategies on conventional social media platforms such as Facebook, LinkedIn and Instagram, the user numbers that TikTok has put up over the past five years cannot be ignored. 
Globally, TikTok has been downloaded more than 2 billion times. In five short years, the app has become the third most used social media app behind Facebook and Instagram in the US, and according to Statista, and the number of TikTok users in the US in 2021 have more than doubled since 2019 to 73.6 million from 35.6 million. 
Digital research firm Insider Intelligent (formerly known as eMarketer) pointed out in a recent report that TikTok surpassed even Snapchat and Twitter in the number of global users in 2021, and predicts that TikTok will grow to 755 million users worldwide by the end of this year – a 40.8% growth from 2021. 
Android phone users spend an average of 13.3 hours per month on TikTok, according to data gathered by Hootsuite, which is second only to Facebook, and research conducted by the Pew Research Center showed that 49% of adults between the ages of 18-29 use TikTok – that number drops precipitously for users between 30-49 years old. 
Harnessing TikTok 
While the numbers do say that small business owners should include TikTok in their marketing and ad strategies, how can you do that in an effective manner? What makes TikTok different?
The first thing one should notice is that the vast majority ot TikTok users said they use the app to "find funny/entertaining content," according to the 2021 Global Web Index Survey. TikTok also announced that in 2020, 176 different songs each received over 1 billion views that year. 
In short, people go to TikTok for different reasons then they would for the austere, business-like environment that LinkedIn offers, or the family-friendly environment that Facebook prides itself on. They go to TikTok because they emotionally connect to the content.
The Ocean Spray Accident
Ironically, the biggest marketing lesson TikTok taught us happened by accident in 2020. 
At the height of the pandemic, while companies were trying to reinvent their social media strategies due to COVID-19 lockdowns, a TikTok user in Idaho named Nathan Apodaca, who uses the handle @420doggface208, recorded himself scootering to his shift at a potato factory while drinking from a bottle of Ocean Spray Cran-Rasberry juice and listening to Fleetwood Mac's old hit "Dreams." Apodaca did this because his car broke down.
Apodaca's post instantly attracted millions of views, while thousands more recreated their own versions of the video on other social media channels such as YouTube. Even Fleetwood Mac co-founder Mick Fleetwood created his own rendition of the video. The video was ultimately viewed 74 million times. "Dreams" became the most downloaded song on iTunes the week after the video was posted on TikTok, and even hit the Billboard Top 100 for the first time in 40 years, while sales of Ocean Spray's Cran-Rasberry drink skyrocketed along with its share price. The company ended up gifting Apocada with a new pickup truck.
Lessons Learned
Apocada's TikTok video is being used as a case study in the world of business academia as well as by marketing firms around the country, as it taught a valuable lesson on the best ways to grab people's attention on TikTok: by being human and being relatable. Dry, tedious ads won't be effective on TikTok and will most likely garner low click-through and conversion rates. 
"Humanity is, arguably, the main reason for the overwhelming success of Apodaca's video-turned-ad," according to a case study on the video by Phase3 Digital. "It isn't as though he began this journey as an influencer or someone with a significant number of followers. In his words, he just likes juice and needed to get to work."
Easy Setup 
One of the reasons for TikTok's growing popularity is its features and ease of use. Small business owners can create a business account on TikTok's main page. Get a verified badge from TikTok so your company name cannot be used by anyone else. Afterwards, you can begin thinking about the types of videos you want to make. 
If you're on a shoestring budget or simply want to see how well your business can perform on TikTok before paying for ads, here are some simple tips:
Get creative with your videos

. Make your videos compelling, relatable and fun, and experiment with different voices to see how well your brand fits into the TikTok world. The key is to keep it real and, sometimes goofy, in your videos. For example, this car salesman @titosuave941 has 2 million followers just by posting

videos of himself singing at work

.

Launch a Hashtag Challenge.

A Branded Hashtag Challenge is a feature on TikTok that allows you to get your followers involved in a trend via hashtags. For example, GUESS created the #InMyDenim challenge in 2018 where users showcased themselves in jeans, and the campaign resulted in more than 

40 million views

.

Try the Duets Feature.

One popular feature on TikTok is its Duets Feature,

which allows you to record a video that follows along with another person's video. When you post a Duet, the original video is placed on the right side of the screen, and the newly recorded video (yours) is placed on the left. Both videos play at the same time.

 
Advertising on TikTok
TikTok offers a variety of ads, such as in-feed ads, image ads and video ads. As with any popular social media platform, advertising on TikTok is expensive, and the costs most likely will grow as the app's popularity continues to grow. Before you advertise, however, the first factor you should look at is demographics. Who are you reaching in TikTok? 
As stated above, nearly half of TikTok's users are under 30-years-old, and a slight majority of TikTok users are men. As a business owner, before you commit to expensive advertising campaigns, you need to ask yourself if your products or services are a good match for this group. 
Geo-Political Concerns?
If you're a small business owner and seek to add a customer base overseas, you should consider that TikTok has been banned by China, India, Pakistan and Bangladesh for various political and security reasons. President Donald Trump banned TikTok in the US in 2020 due to suspicians that the Chinese Government was using the app to gather personal information from its users. TikTok's parent company, ByteDance, is based in China. TikTok was actually formed when ByteDance acquired social media app Musical.ly, a karaoke video app.
In 2021, President Joseph Biden lifted the ban, saying that the US State Department "should use an evidence-based approach" to determine if the app is a threat to national security. 
Bottom Line
While some businesses may be used to the conventional social and business media apps such as Facebook and LinkedIn, they would probably be wise not to ignore TikTok. Its popularity is continuing to grow, showing that it is not merely a passing fad, and marketing on it could get your business a lot more eyeballs from a demographic that you may not have considered before. 
https://kapitus.com/wp-content/uploads/TikTok-Feature-Image.jpg
1400
2100
Vince Calio
https://kapitus.com/wp-content/uploads/Kapitus_Logo_white-2-300x81-1-e1615929624763.png
Vince Calio
2022-01-20 22:54:03
2022-09-23 00:30:45
TikTok Surpasses Google, and SMB Owners Should Take Notice