This Air Force Veteran is Bringing Military Challenge Coins to First Responders and Beyond!
The U.S. military has many traditions for how they reward performance and create a shared sense of identity. They range from medals to salutes to nicknames, but one of the more underrated and unique traditions are the challenge coins.
Many civilians might not know this but in the military, service members get the chance to earn special coins called "challenge coins". All branches of military service use challenge coins which commanding officers give out for rewarding a job well done, building morale, and creating better teamwork and unit cohesion. Each President of the United States issues special challenge coins to military members during ceremonies. For military service members and veterans who collect and carry them, challenge coins are badges of comradeship, and reminders of the military's close-knit culture.
Another tradition is that military members should carry their unit's challenge coin with them wherever they go. They can be "challenged" (often when out at bars or restaurants) to show their coin at any time to prove that they are a member of a specific military group. And if you don't have your challenge coin on you, you owe your challenger a round of drinks!
Kevin Tuohy, military veteran, used his love of challenge coins as inspiration to create a new successful business: Adrenaline Challenge Coins. Based in Orange County, California, his company supplies high-quality custom challenge coins to organizations such as military, law enforcement, and fire departments. They're also branching out into different fields, introducing the concept of challenge coins to new audiences.
Kevin's success story offers some inspiring lessons to other business owners.
It Started as a Hobby…and Quickly Grew!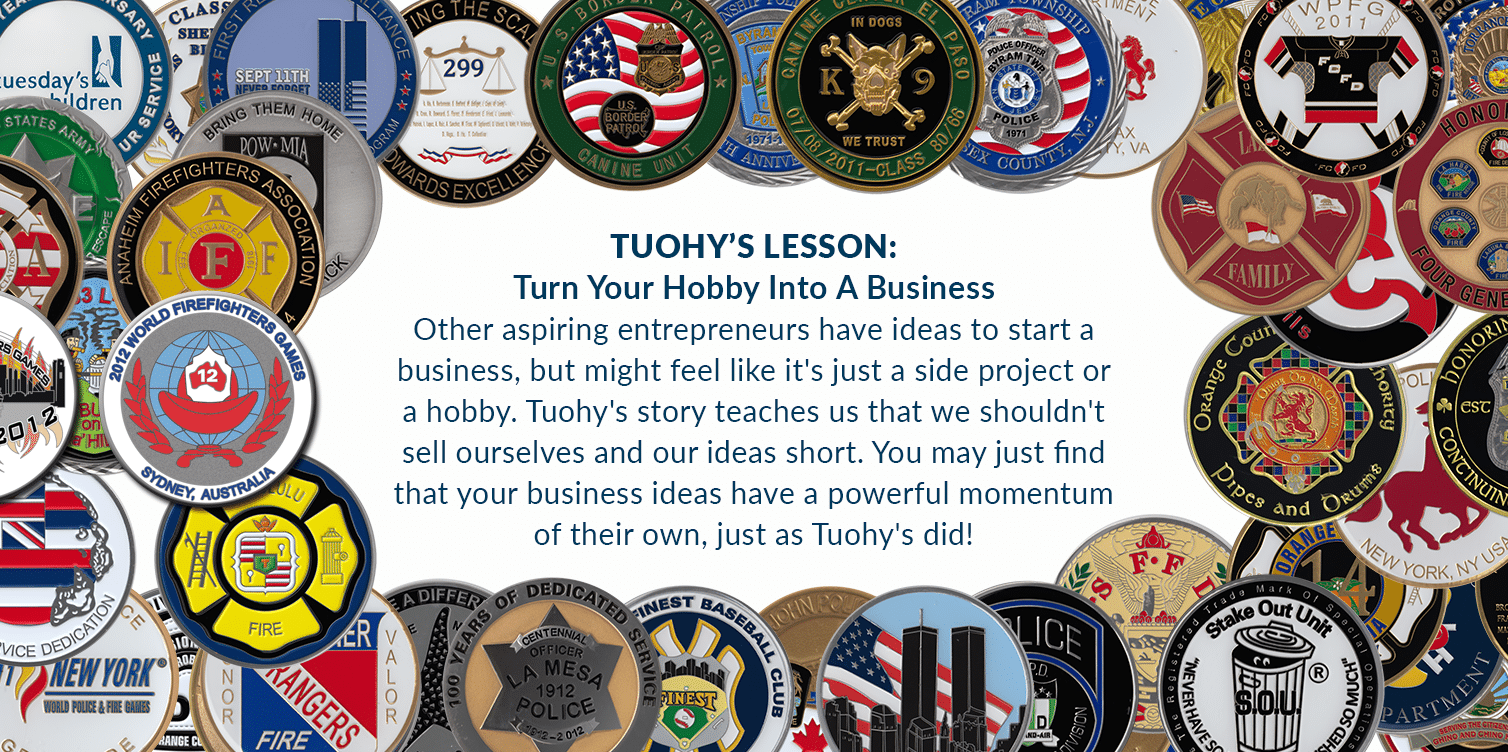 After completing his military service, Kevin Tuohy became a firefighter – a job he had always wanted and one that he truly loved. But in 2011, he retired from the fire department and started thinking about what was next.
"I started Adrenaline Challenge Coins because I loved the history and tradition of [them], and thought I could make better and less expensive coins than what was out there," Kevin said. "This was going to be a 'hobby job' to fill my free time, but with great word of mouth, a top-quality product at the best prices, and friends and contacts throughout the military, police and firefighter communities, we grew into a full-fledged business."
Eight years later and Adrenaline Challenge Coins is the official/licensed coin provider to the NFL, NCAA, General Motors, the World Police & Fire Games, the FDNY Foundation and more.
Tuohy's Lesson: Other aspiring entrepreneurs have ideas to start a business, but might feel like it's just a side project or a hobby. Tuohy's story teaches us that we shouldn't sell ourselves and our ideas short. You may just find that your business ideas have a powerful momentum of their own, just as Tuohy's did!
Start By Marketing to Your "Inner Circle"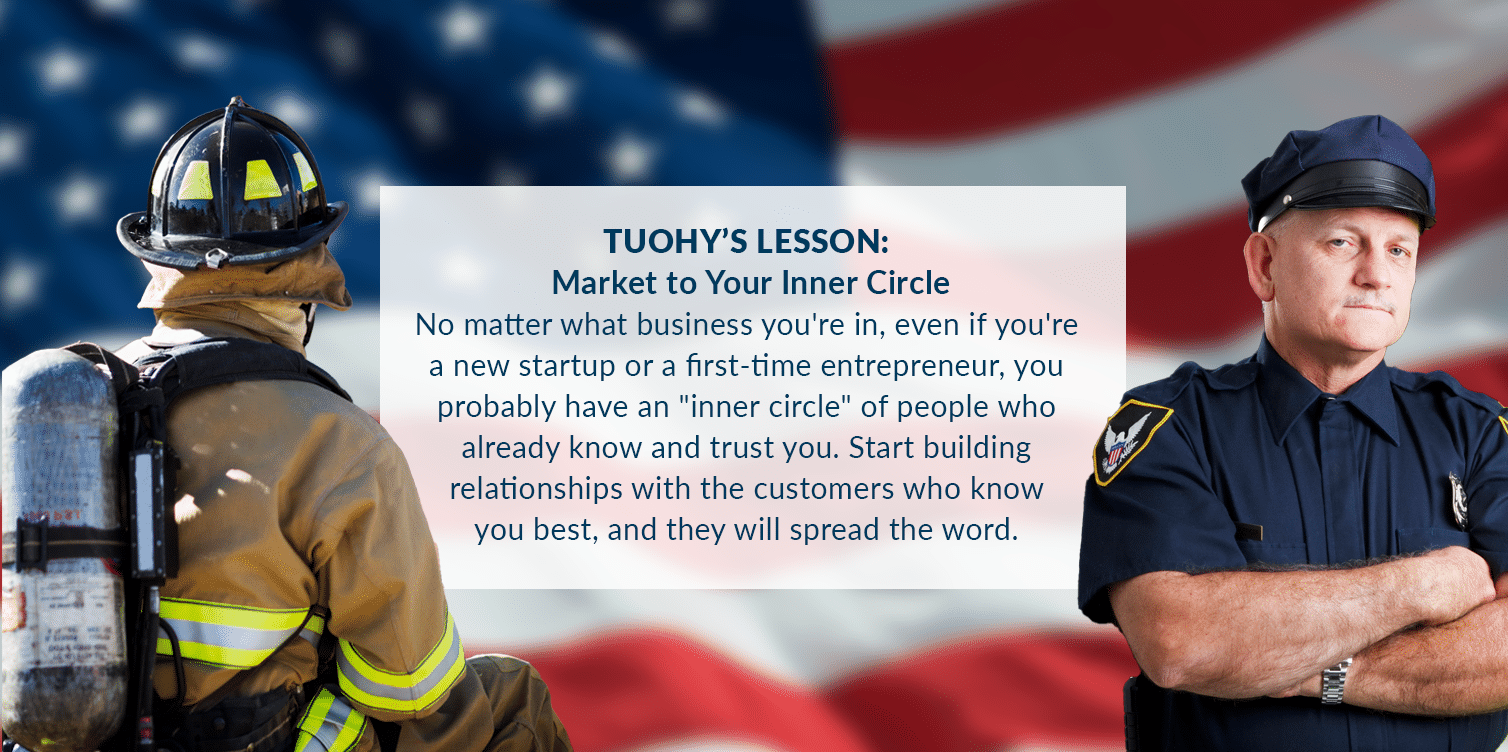 When Kevin started marketing his new business, he reached out to fellow firefighters, police and military veterans. They understood challenge coins and were receptive to hearing from a new business that was part of their institutional culture.
"Being a veteran gave me an instant 'in' with the biggest challenge coin community in the world," Kevin said. "Military, police and firefighters are a very tight-knit and loyal community. People who choose these types of professions tend to have an instant trust and loyalty to each other. [Veterans and firefighters own and operate my business]. We [live] in this community, and we understand what it means to honor the traditions. Every customer is family, and should be treated accordingly."
Vistaprint selected Adrenaline Challenge Coins to participate as a vendor at L.A. Fleet Week 2019 and Kevin introduced his business to a wider audience of military members and veterans. Kevin's company was one of three veteran-owned businesses chosen by Vistaprint for their Micro Main Street program to celebrate small businesses.
Tuohy's Lesson: No matter what business you're in, even if you're a new startup or a first-time entrepreneur, you probably have an "inner circle" of people who already know and trust you. Start building relationships with the customers who know you best, and they will spread the word.
Stand Up for Your Values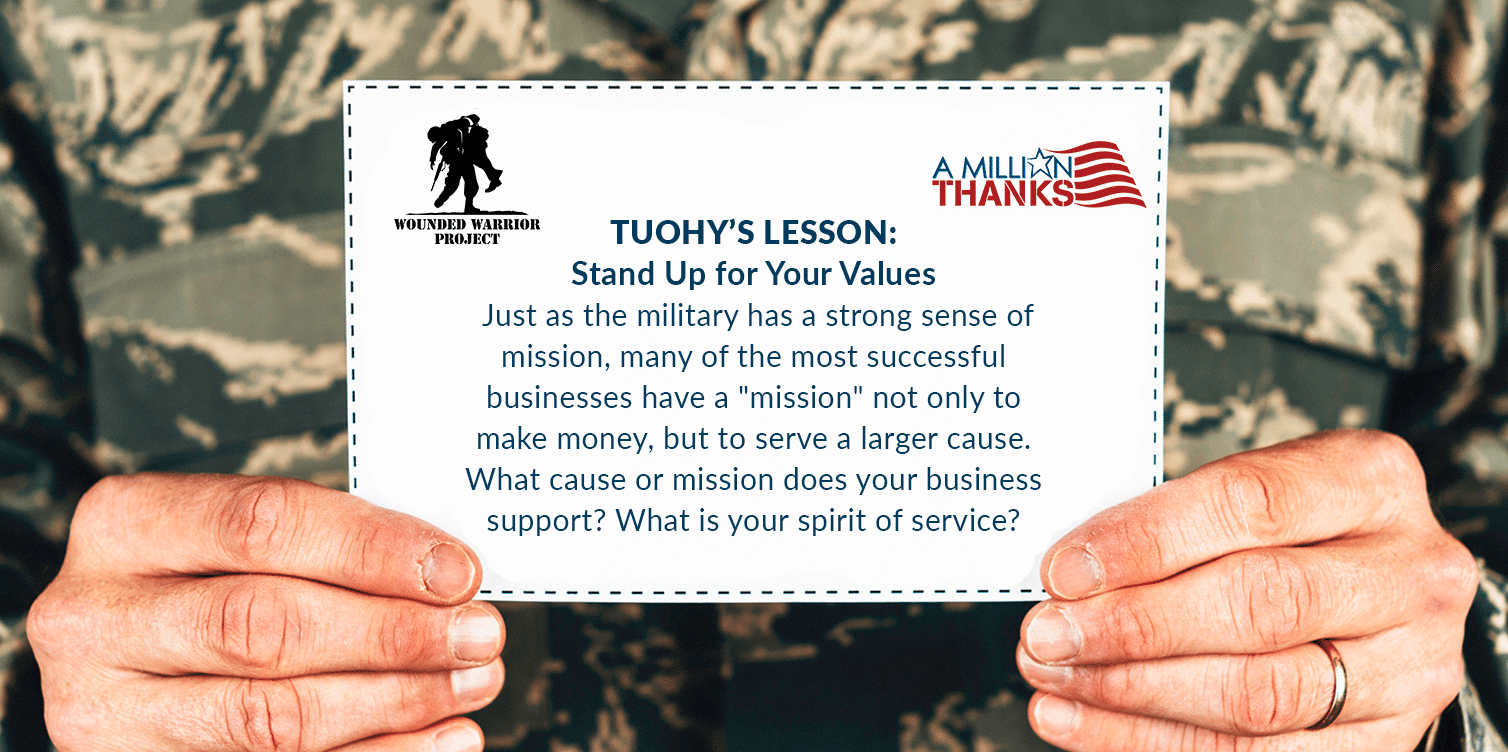 Values from the military and Tuohy's drive to serve others shaped his life and careers as a veteran business owner.
Tuohy says that Adrenaline Challenge Coins helped raise tens of thousands of dollars. The company's donated to organizations like A Million Thanks, Wounded Warriors, and Flags of Honor. They even donate to firefighters and other first responders who were killed or injured in the line of duty. Even before founding his company, Kevin was a co-founder of a fundraising effort for families of the victims of the World Trade Center attack on 9/11. Their goal was to raise $30,000, but they ended up raising $1.1 million!
"As veterans and firefighters, giving back has been a part of our nature," Kevin said.
Tuohy's Lesson: Just as the military has a strong sense of mission, many of the most successful businesses have a "mission" not only to make money, but to serve a larger cause. What cause or mission does your business support? What is your spirit of service?
Branch Out into New Markets
Adrenaline Challenge Coins doesn't just make challenge coins for military organizations and first responders. The company is expanding the market for challenge coins by introducing the concept to sports fans. The company offers NCAA sports-themed coins so fans can honor their favorite college athletics teams. They created a patented challenge coin-bottle opener designed for the NFL, too. Football fans can now celebrate their favorite teams in a fun way.
Kevin also found that crossover between sports and first responders by being selected as the official challenge coin provider to the World Police and Fire Games, an Olympic-style competition with thousands of athletes who are firefighters and law enforcement officers from all over the world.
"This was one of my favorite success stories," Kevin said. "Until 2011, these Games never used challenge coins as part of their collectibles. Because we know this community so well, and because of the quality and pricing of our product, we were selected as the official provider and have been making custom coins for every Games since 2011. We are already locked in for the next two Games, 2021 in Rotterdam and 2023 in Winnipeg."
Challenge coins aren't just for the military or first responders. They're for anyone who loves being part of a community and wants to show their support. Kevin and his team expanded the reach of their business by finding crossover appeal.
Learn more about Kevin's business and check out their stylish coin designs at www.AdrenalineChallengeCoins.com
https://kapitus.com/wp-content/uploads/2019/11/Challenge-Coins_Hero-scaled.jpg
1707
2560
Ben Gran
https://kapitus.com/wp-content/uploads/Kapitus_Logo_white-2-300x81-1-e1615929624763.png
Ben Gran
2019-11-15 11:56:50
2022-08-02 19:06:34
This Air Force Veteran is Bringing Military Challenge Coins to First Responders and Beyond!