The Six Best Cities to Relocate Your Small Business HQs Post-Pandemic
If the COVID-19 pandemic did anything, it served as a crystal ball for small businesses. If you looked carefully into it, you could surely see the words "remote work" forming in it. 
Now that the pandemic is coming to an end, if you're one of the millions of small businesses that has decided to permanently move to a remote working environment, now may be a great time to move your business into a smaller, cheaper space to a city where business taxes and commercial rents are low and the quality of living is high. Moving could save you considerable expense, especially if you are incorporated in an expensive urban area such as New York City, Boston, San Francisco, Chicago or Los Angeles. 
How We Chose
Kapitus came up with a list of six cities that could be ideal sites for your company headquarters based on several filters:
The city must be located in a state in which the

corporate tax rate

is no higher than 5%;

The city must be listed by the

National Association of Realtors

(NAR) as one of the top real estate markets in 2021. The NAR chose these markets based on several factors including commercial leasing rates,

GDP growth, unemployment rate, median household income, consumer spending and personal rental vacancy rate, among other variables.

The city must rank among the top 50 cities in North America in

Numbeo's Quality of Life Index

. The QoL Index incorporates factors such as cost of living, average property price-to-income ratio, crime and safety and pollution.

The final factor is demographics. While this filter is a bit more subjective, Kapitus considered population size, small business competition, and the education level of the population in each city.
Here are the six cities Kapitus recommends if you are thinking about relocating your small businesses – and four of them are located in states that have the best corporate tax rate of all – 0%!
Austin, TX (Pictured Above)
Nestled in the shadow of the University of Texas and other local colleges, it is a great town for budding entrepreneurs and tech companies. While Texas' sales tax is on the high side, it is one of a half-dozen states that does not charge a corporate tax. Its population of 950,807 is highly educated, so it is a hotspot if you wish to hire interns or new employees for your company. It is considered a college hipster town with a great culture, restaurants and nightlife, and it ranks fourth in the QoL index. The NAR also states that it is one of the best places for small businesses in terms of commercial and residential rents. Corporate giants such as Amazon, Google and Facebook have set up operations in the city, thus paving the way for ambitious startups and small businesses.
Raleigh, NC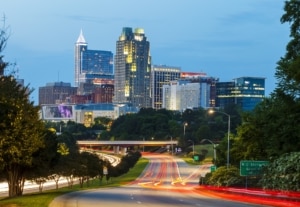 The "City of Oaks" was named as one of the best cities in the country to live in by Forbes and is ranked number one in the QoL index for its Southern charm, 180 miles of greenways, rich history and comparatively low cost of living. While its population of 474,069 people makes it relatively small, it is in the heart of Research Triangle Park – one of the hottest areas in the country for big tech. Duke University, the University of North Carolina and NC State University are all within the area, making it a breeding ground for tech entrepreneurs and bright young college grads seeking experience. Plus, North Carolina boasts a corporate tax rate of just 2.5%, which is one of the lowest in the country, and the NAR named it one of top 10 cities for commercial real estate investment. If you are imagining opening a small office in a city and calling it your headquarters, Raleigh may be the perfect place. 
Salt Lake City, UT
Some may connote Salt Lake City with Mormons, but did you know that it's also called "the silicon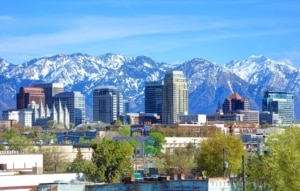 slopes" for its many tech startups, as well as the fact that tech bigwigs such as Adobe and Oracle have large presences in the city? Its population may be just shy of 200,000 people, but 45% of its workforce possesses a bachelor's degree or higher, making it a great city for hiring well educated and highly qualified professionals. Utah is one of the few states that does not charge a corporate tax, and it ranks 41 on the QoL index for its relatively low residential property rates, tranquility and scenic beauty. It is also on the NAR's top 10 best cities for commercial real estate investing in 2021 due, in part, to low commercial rents. 
Seattle, WA
Seattle may be a surprise entry because it's already well-known for "Frasier," great coffee and its tech
background as it looms in the shadow of Microsoft. Consider, however, that it's population of 724,305 is well-educated, as roughly 64% of working-class adults have a bachelor's degree or higher, and Washington is one of the states that does not charge a corporate tax. The city and surrounding suburbs also ranks 11 on the QoL index, and the NAR predicts it to be among the top 10 best commercial real estate markets for overall investment and development in 2021. 
Cincinnati, OH
Once known as "The Queen of the West," Cincinnati is on this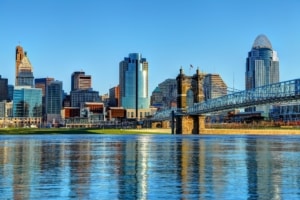 list for several reasons – the first being that Ohio is also one of the states that does not charge a corporate tax, and another being that it actually ranks 22 on the QoL index. Its population of 307,266 is well-educated, making hiring quality candidates in the area less difficult than most cities. The city's roughly 850,000 small businesses were hit hard by the COVID-19 pandemic, and as a result, commercial leasing and vacancy rates are the lowest they've been in the city in decades, so now may be a good time to make a switch to the city.
Denver, CO
Denver may be known for its long, cold winters, but it is also known as a goldmine for small businesses,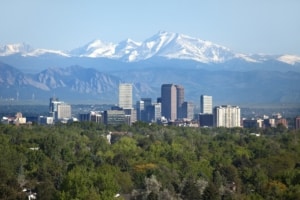 especially ones that specialize in the hi-tech and blockchain technologies. Financial giants such as Invesco have their headquarters in the city, as do 26,000 small businesses for a city with a population of 705,576. Post-pandemic, the office vacancy rate shot up to 13.1% from 12.5% in the fourth quarter of 2020 and 13.1% in the second quarter of 2020, making commercial real estate leasing cheap right now. The city ranks 38 on the QoL, and is known for its diverse, well-educated population and beautiful suburbs, making it an ideal spot for small businesses. Colorado's state corporate tax rate is 4.63%, making it one of the cheaper states for businesses to set up shop in. 
https://kapitus.com/wp-content/uploads/Austin.jpg
1218
2100
Vince Calio
https://kapitus.com/wp-content/uploads/Kapitus_Logo_white-2-300x81-1-e1615929624763.png
Vince Calio
2021-07-07 14:23:18
2022-04-06 15:55:19
The Six Best Cities to Relocate Your Small Business HQs Post-Pandemic