The ABCs of Generating Sales Leads: it Doesn't Have to be a Costly Process!
No business, large or small, can survive without customers, and in today's crowded marketplace, generating sales leads can be one of the most daunting challenges small businesses face. According to Hubspot, generating sales leads and finding customers are atop the list of the greatest challenges small businesses face, especially in an age where millions of products are being advertised and sold in marketplaces such as Amazon and Etsy. 
Finding potential customers, however, can be expensive and time-consuming. Paying for a lead generation service or going through the costly, multi-step process of setting up a booth at an industry conference may not even get you the quality results you're looking for. As an SMB owner, your best bet is to make sure you are executing the ABCs of lead generation. 
Here are some basic steps that you can take to generate sales leads in a cost-effective way so that you can always keep your sales pipeline full. 
Maximize Social Media
Nearly all the people who want to buy your products are online and on social media, and you need to do everything you can to try to connect with all of them. LinkedIn, Facebook, Instagram, Twitter and TikTok are the most prominent platforms, but they all require different approaches to successfully connect to potential customers. 
Facebook does have business groups, but posts are generally personal in nature, while LinkedIn has a more austere business tone. Platforms such as TikTok and Instagram take a visual approach to attract followers that involves video streaming. There are plenty of free resources on the web, such as this informative article from SproutSocial on how to stand out on each platform. 
No matter which platform you're using, it's imperative to create a strong profile of your own that tells readers exactly what your business does and what makes it special, as well as letting viewers know what types of customers you're looking for. Additionally, almost all social platforms have groups dedicated to what you do, so it's important to make as many connections as possible, as well as monitor those groups and reach out to any posters that may seem like a potential customer. 
Scour Your Personal Network
Many small business owners don't want to mix their personal lives with their business, and if you're one of them, you're making a big mistake. Your personal network of family members, friends, neighbors, current and past workmates as well as service professionals could be a hotbed for sales leads. 
Let those people in your life know that you're seeking potential customers and be specific about your business and the types of customers you're seeking. Even if the person is not directly a sales lead (and they probably won't be), they could know of someone who is. Provide them with your contact information (if they don't already have it) and ask them to forward it to anyone they might know who would be interested. Obviously, you want to approach them in a way that respects your friendship with them, but doing so isn't as awkward as you may think, and you could be surprised at how many leads this technique could generate.
If at First You Don't Succeed…
Sometimes when a customer doesn't go through with a purchase, the customer may not be saying "no," they might simply be saying "not now." These include potential online customers who build a shopping cart but then don't follow through with a purchase; or a customer in a physical store who asks questions about a particular product but doesn't follow through with a sale. 
If you have a website, make sure it is set up in a way that compels them to give you their email addresses or other contact information. If your business operates out of a physical store, you could ask potential customers for their contact information in order to send them future sales or discount alerts. Another way to try and get contact information from them is to hold a contest in which they can only enter by giving you their contact information. For example, having potential customers throw their business cards in a jar and promising them a small prize if their card is drawn is often a successful technique. 
You may not make a sale right away, but if you're persistent in contacting them with offers and alerts for your product, your efforts may very well pay off at some point down the line. 
Write Informative Blogs and Market Them
Adding a blog to your website will bring you a multitude of benefits, provided that you follow up with content marketing. You can scour social media and the web for topics in your industry that may interest your customers, then write short pieces offering them advice on how to solve certain problems, for example. This will get viewers to see you as an expert in your industry and perhaps an influencer. 
Of course, good articles won't do you much good unless you engage in content marketing. Posting your articles to relevant groups on various social media platforms, for example, will get you some hits from readers who could be potential customers. If they respond with commentary on your articles, only allow them to do so if they provide their email addresses. If you're not up on the latest content marketing strategies, you can get some free advice on the internet, such as Hubspot Academy's free course on content marketing. 
Additionally, if you're chock full of article ideas but creative writing isn't your thing, there are several online services such as this one from Crowd Content, which allow you to hire an experienced freelance writer for a small fee. 
Host Webinars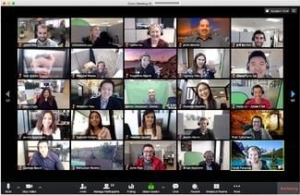 Blog content is important in establishing yourself as an expert, but it often is a one-way street that doesn't allow for interactive experiences with your potential customers. One way to solve this problem is to host webinars that allow users to comment and provide feedback on what you're saying. Advertise a webinar on your website and on social media platforms, and have users register for it by providing their contact details. Pick an interesting topic and create a script on what you want potential customers to know. If you're unsure of how to create a webinar, there are plenty of software packages out there that make it easy, such as Zoom Video Webinar and Zoho Meeting.
Network, Network, Network…
One of the best ways to find potential sales leads is to attend networking events, such as industry conferences, that are relevant to your industry so you can meet future customers face to face. Scour the internet and social media for networking events that seem like places where you'll find potential customers. Sites such as Meetup.com and Eventbrite.com offer listings of events in your general area that may prove valuable to your business. Participation at these events is often free. 
When you go to these events, keep in mind that attendees probably don't want to hear heavy sales pitches, so it's important to approach people in a friendly, conversational manner. Go to these events armed with your business cards, grab a drink and have fun meeting new people!
Ask Your Current Customers for Referrals
Your current customers are great sources for sales leads because they already know and trust you. One way to encourage them to refer potential new customers to you is to offer them a heavy discount on your products or services if they do refer a new customer to you. That way, you can achieve the ultimate win-win by landing both a repeat and new customer simultaneously. 
Keep at it
When drumming up new sales leads, it's important to be patient, as this effort might be slow at first and requires time and effort. Don't get discouraged, however, as implementing one or all of the above strategies could pay off in a big way over time and keep your business going in the future. 
https://kapitus.com/wp-content/uploads/2023/03/sales-meeting-1.jpg
1069
1900
Bernadette Abel
https://kapitus.com/wp-content/uploads/Kapitus_Logo_white-2-300x81-1-e1615929624763.png
Bernadette Abel
2022-04-20 14:20:20
2023-03-16 13:37:18
The ABCs of Generating Sales Leads: it Doesn't Have to be a Costly Process!