It doesn't matter if you travel for work every week or just once a year. When you need a place to rest and recharge during your trip, you want it to be at one of the best hotels for business travel. But with so many choices, how do you know what the best-for-you hotel is? We'll take the stress out of booking for you. Here are four of the best hotels you can stay at while traveling for work.
The 4 Best Hotels for Business Travel
Marriott
According to the Certify SpendSmart™ Quarterly Report for 2019's second quarter, Marriott was the front runner of all other lodging vendors. The hotel chain makes up for 10.30 percent of lodging expenses with an average expense of $306.50. It's easy to see why: If booked directly with Marriott through a program like Best Rate Guarantee, the company will match rates found elsewhere — with an additional 25 perfect off the stay.
Also, Marriott offers workspace options — regardless of whether it's used by solo travelers or professionals who need larger spaces for meetings and more. Furthermore, there are additional digital tools available that assist with planning events at their properties.
The Marriott Bonvoy rewards program also allows guests the opportunity for room upgrades, VIP travel, members-only pricing and other common benefits that frequent travelers may be looking for.
Hyatt
According to the Certify report, the Hyatt ties with the Marriott for the top-rated lodging vendor. Both brands earned a 4.5 out of five stars. So, what makes Hyatt one of the best hotels for business travel?
First, consider the financial aspect. Just last year they announced the launch of Hyatt Leverage, their global business travel program. In this program, small and mid-sized enterprises can book their lodging at a five to 15 percent discount. This is especially helpful for companies who plan their employees travel, because they offer better rates. They have a specialized dashboard where administrators can track what's being spent, as well as where their staff are currently traveling.
But for the traveler themselves, one of the reasons why Hyatt is so highly rated is the company's efforts to have practical amenities readily available. Forget your phone charger? Need a lint brush? Hyatt has both available. Never mind the standard in-room hairdryer — if you need a curling iron, call the front desk! Hyatt puts in consistent effort to improve the customer experience wherever they can.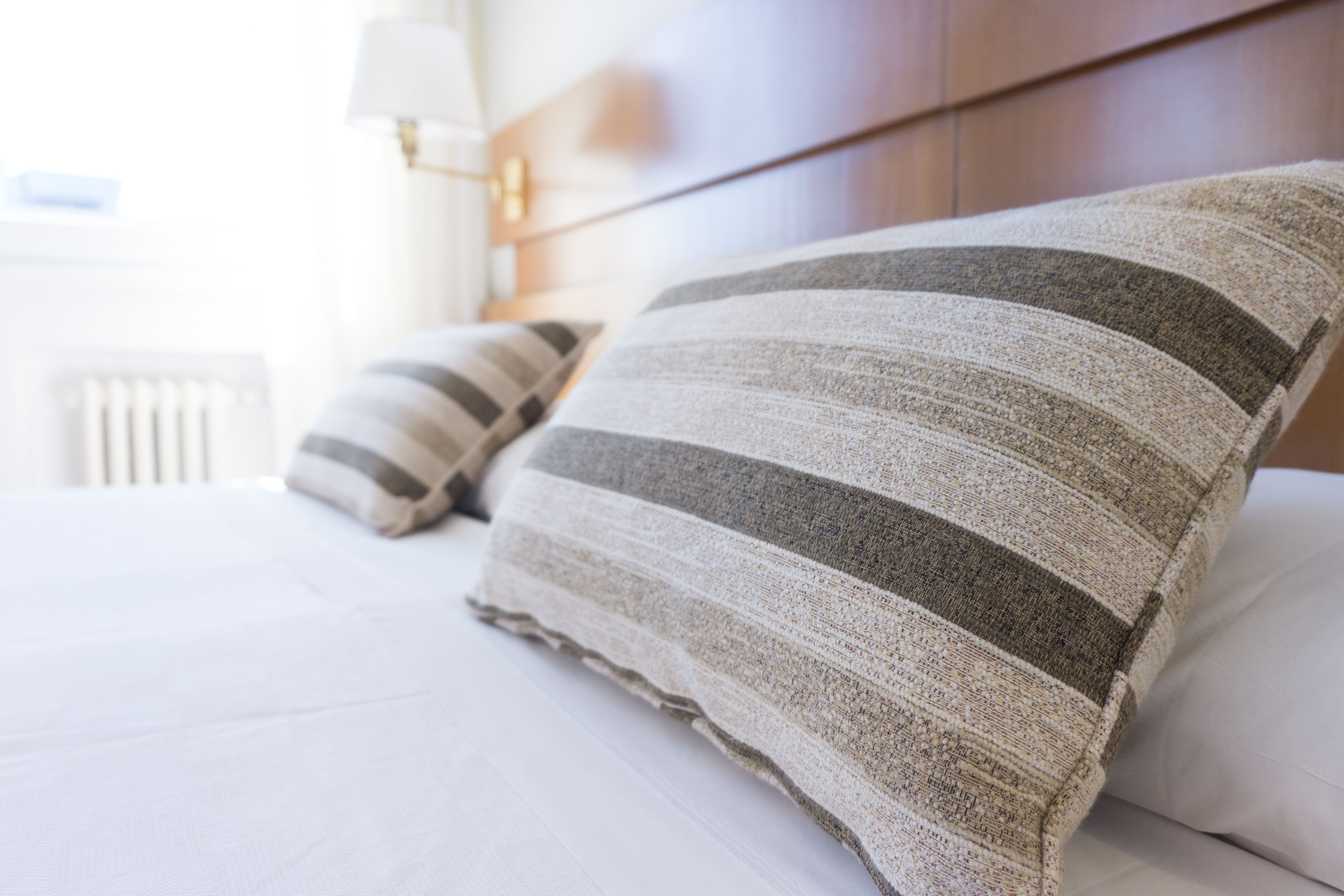 Photo by Nik Lanús on Unsplash
Hampton Inn
The second-most expensed lodging vendor on Certify's report was the Hampton Inn, with 8.99 percent. With over two thousand locations worldwide, this Hilton-owned chain is convenient and provides all amenities business travelers need — and at no additional cost(s). Coffee and tea are always available in the lobby; a free hot breakfast is served daily. For the business traveler who is on the go, the Hampton Inn provides On the Run™ Breakfast Bags during the work week.
Additionally – and most important for business travelers – free high-speed WiFi is available in all guest rooms and the lobby. That way, work doesn't have to stop when you're off-site.
Hilton
Another hotel chain ranked high in Certify's report was the Hilton brand. With one of the best rewards programs available, it's easy to see why guests like Hilton so much. Even at the lowest member tier, benefits include complimentary WiFi, late checkout options and the ability to choose your own room in the hotel. Move up a level in rewards and guests can potentially earn access to a VIP lounge, free nights of stay, room upgrades and breakfast.
Speaking of food, the entire Hilton chain is making changes to the offerings guests have access to. For example, Hilton Garden Inn recently transformed their food and beverage options to include healthier and organic options, as well as new flavors, such as craft beers or locally-sourced food. Their breakfast buffet provides both grab-and-go and made-to-order options. Furthermore, the chain offers a 24/7 retail space with everything from healthy snacks to wholesome meals.
If you're looking for the best hotels for business travel, these four brands offer lodging experiences that would make anyone traveling for business feel at home. With options for different budgets and various benefits, you're sure to find your favorite hotel in one of these business-friendly chains.
[skyword_tracking /]
https://kapitus.com/wp-content/uploads/2019/11/4-best-hotels-for-business-travel.jpg
1467
2200
Erin Ollila
/wp-content/uploads/2020/03/Kapitus_Logo_white-2-300x81.png
Erin Ollila
2019-11-06 13:26:24
2019-11-06 13:26:24
The 4 Best Hotels for Business Travel