Setting Up a Remote Work Environment – the Challenges and Benefits
"All of humanity's problems stem from man's inability to sit quietly in a room alone," wrote French philosopher Blaise Pascal. While that statement was written in the 17th century, we're about to find out if it's true in 2021, as tens of millions of Americans will continue to work quietly alone in their homes. 
If your small business operates out of an office and has decided to permanently move to a remote work environment, you are going to experience both benefits and headaches from that decision. Of course, most of your employees will be happy with the arrangement, but you're also going to have to deal with new tax classifications and employee productivity issues, among other things. 
Savings Benefits With Remote Working
One benefit to remote working is a potential savings on office space. The average rent-to-revenue ratio in some business sectors in the U.S. is as high as 15%, so with fewer or no workers coming into the office, you may think about moving your company's headquarters to a smaller, cheaper and more tax-friendly location anywhere in the country, especially if your headquarters is in an expensive urban area such as New York City or San Francisco.
Don't Lose Valuable Employees
Moving to a remote working environment could very well allow you to retain valuable employees. This is particularly important since the number of job openings right now far outpace the number of new hires and the volume of people quitting their jobs, according to the Bureau of Labor Statistics. Roughly 40% of Americans prefer to work from home full-time, compared with 35% who seek a home-office hybrid and 25% who want to go back to the office full-time, according to The Harris Poll survey of 1,224 working adults.
Put simply, there are more job openings right now than available employees, so the competition for new employees is fierce right now. By not setting up a remote work environment, you risk losing much of your staff.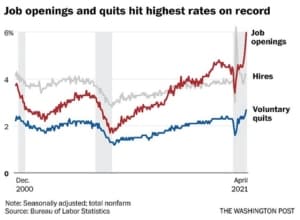 A recent poll of American workers from Flexjobs revealed that 60% of women and 52% of men who have been working from home during the pandemic would rather quit their jobs than return to their respective offices full time. 
You are also no longer limited to just hiring employees who live in the area surrounding your headquarters. You are free to hire talent from anywhere across the country, or even overseas. Bear in mind that every state does have different employment laws that could be costly. 
Challenges With a Remote Work Environment
While a remote work environment may be great for some of your employees, it will create challenges for you from a human resources and accounting standpoint. Some of the potential downsides of moving to a remote working environment include:
The ability for employees to collaborate and communicate may suffer;

Remote communications technology may need to be added or upgraded;

Payroll taxes and deductions may be confusing;

Workers may become less productive and motivated, and

The mental health of some workers may suffer due to the isolation of working at home alone.
Talk to Your Accountant
The first thing you need to do if you move to remote work is to speak to your accountant about managing your payroll. If your employees are out of state, you may have to deduct state and local taxes (SALT) from both the location of your company's headquarters and the state in which your employee lives. 
Some employers will choose to make the employee responsible for his or her own SALT taxes, and some employers may even opt to make some out of state employees independent contractors in order to avoid the confusion. While some states such as New York and New Jersey and Washington, D.C. and Maryland do have reciprocity agreements in place that allow employers to pay only one set of SALT taxes, you still need to speak to your accountant about your options. 
If you do classify some of your employees as independent contractors, be aware that the PRO Act was reintroduced in Congress in January 2021, which will require employers to engage in the ABC test to determine if an employee can be labeled as an independent contractor to keep in compliance with the National Labor Relations Board. 
Use the Latest Communication Apps and Technology
To make remote working work, you'll need to use the latest remote communications software that will allow for you and your employees to meet regularly. 
Video conferencing apps such as Zoom, 247Meeting, and Teamviewer will enable you to do that. Additionally, it's crucial that you implement apps such as Google Docs, G Suite or Think Free that allow you and your employees to freely share and edit documents. 
Additionally, it is important for your IT or HR teams to set up a system to send laptops (with cameras) and other office equipment out to your employees so that they can stay connected.  Your HR team (which may be you, depending on your business) will also have to adjust payroll to allow employees to receive direct deposit and to have access to their paycheck stubs online. Services offered by ADP, Paychex or Onpay can help you with that. 
Hold Employees Accountable
According to a recent survey of small business leaders by The Harris Poll and Trinet, 55% of them said that employees were less productive when asked what the biggest challenges of a remote working environment is. The distractions of working from home, taking care of children or doing household chores can be a major deterrent. 
As a result, you may want to set up regular video conferences during the work week with your employees to go over what assignments they are working on. Set definitive performance goals and deadlines for them, and do not be afraid to set up one-on-one calls with employees whose productivity may be slipping since working from home. 
Keep Mental Health Issues in Mind
While working from home is considered a blessing by most, the lack of office friendships, the inability to pop your head over your cubicle wall and confide in your co-worker, and the general absence of employee camaraderie can lead to a feeling of isolation and depression in others, especially for those who live alone. According to the most recent Census data, single occupancy households are now the second-most prevalent in the country. 
Amber Broughton, managing director of The Harris Poll, said in a statement, "Small and medium size businesses continue to step up as they adapt to the new realities of this pandemic, investing in the wellbeing of their workforce through enabling remote work, staying in close contact, and offering increased flexibility to balance daily work and life."
According to human resources association SHRM, some tips to avoid employee loneliness in remote work situations may include:
Encouraging regular, non-work related video chats between employees.
Creating a private Facebook group for your employees to share personal photos and thoughts.

Creating  a video conference  happy hour once a week where employees can grab a beverage of their choice and socialize.

If you can afford to, offer employee discounts at gyms, restaurants and other places where they can get out of the house.

As mask-wearing mandates loosen, try having company outings if most of your employees live within a close vicinity to the office. Also, the isolation factor could heighten the importance of holding an annual office holiday party and other events so employees can meet at least once a year.
Morgan Stanley's CEO James Gorman was recently quoted as saying, "If you can go into a restaurant in New York City, you can come into the office." While that may be a hard-line view, employers should carefully weigh the many pros and cons before moving to a fully remote work environment.
https://kapitus.com/wp-content/uploads/Setting-up-a-remote-working-environment.jpg
1400
2100
Vince Calio
https://kapitus.com/wp-content/uploads/Kapitus_Logo_white-2-300x81-1-e1615929624763.png
Vince Calio
2021-06-16 20:13:59
2022-08-02 18:26:51
Setting Up a Remote Work Environment – the Challenges and Benefits