National Organ Donor Day: An Interview with Author and Coach Hillary Rettig
February 14 isn't just Valentine's Day. It's National Organ Donor day, and we're excited spotlight a different kind of love. Organ donation is typically associated with pledging your organs end-of-life or giving to a loved one in need.  Much rarer is living organ donation to a stranger. We had the chance to speak to Hillary Rettig, an inspiring business owner, who did just that.
Taking the Plunge
Hillary Rettig is a Michigan-based productivity coach and author of the bestselling book, 7 Secrets of the Prolific: The Definitive Guide to Overcoming Procrastination, Perfectionism, and Writer's Block and the forthcoming Productivity is Power! Five Liberating Practices for College Students. She coaches professionals, creatives and students on overcoming barriers to productivity.
In 2011, Rettig donated a kidney to a complete stranger. It had a profound impact on her life and work. After reading a New York Times article profiling kidney donation, Rettig decided to take the plunge. Donate Life reports that over 80% of people waiting for organs need a kidney. She visited Matching Donors to find a prospective recipient.
While viewing posts, she encountered one that captured her attention. It read, "I am a retired veterinarian from Colorado. My wife and I started a no-kill animal shelter 20 years ago to give animals a second chance at life. I would like a second chance too. We have invested everything to help save the animals."
Rettig explains, "Every story you read is incredibly moving. I'm a vegan, activist, and have always had rescue dogs. Rescue is an important value to me, and it was wonderful to be able to help someone who had given so much to that."
Living Through Expression
Living the expression of your values translates into Rettig's work with clients. She focuses on empowering them to get more done. She wants clients to express meaning through their work. "Ultimately, do no harm is my highest value and I express that through veganism, activism, and through my work. Helping clients live their values and purpose is an important part of my work."
Within a few months, Rettig was in the hospital undergoing the transplant. The process wasn't without hiccups. Some of Rettig's pre-donation blood tests came back low in key nutrients. She turned to Dr. John J. Pippin from the Physicians Committee for Responsible Medicine to help her advocate for moving forward.
He consulted and wrote a note. She forwarded it to the transplant center, explaining how diet impacts key blood levels. Ultimately, he concluded "vegetarian and vegan diets actually improve kidney function for patients with kidney disease." The transplant team greenlit the procedure.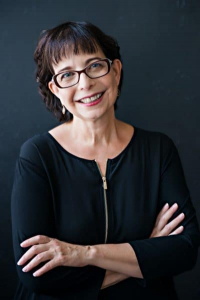 Don't Let Fear Get in the Way
Rettig often guides clients to learn how to advocate for themselves as part of their journeys as entrepreneurs and creatives.
"When I worked with entrepreneurs in micro-enterprise, for example, they might encounter resistance. They're the caretakers or problem solvers — and focusing on their business means less available time. Learning how to advocate for what they need is a crucial skill in long-term success," she says.
The experience also highlighted the importance of striking a balance between compassion and boundaries. Rettig encountered resistance from family and friends who didn't understand why she wanted to go forward with the procedure. This resistance came in ways that mirror what her entrepreneurial clients often face when starting new businesses.
"Some people react out of genuinely caring for you, and others have medical trauma or other fears they project onto you. It's a good lesson: have compassion for people but set clear boundaries. Don't let other people's fear stop you from living your values or taking action on your vision," she advises.
Donate, Impact, Grow
One benefit Rettig noticed immediately was higher self-esteem. "I'm very proud of helping to prolong a life. Studies show that organ donors experience higher levels of self-esteem." Impact can be far-reaching. "Donating an organ can have tremendous rippling benefits through an individual's life, their family and far beyond," notes Rettig.
If you're considering donating, Rettig says to research thoroughly–but seriously consider it. "For me, the donation really was an inconvenience as opposed to a major sacrifice. I honestly don't know why more people don't do it."
Today, Hillary Rettig energetically pursues her own goals. This includes writing and coaching. She founded Vegan Kalamazoo and is campaigning around the U.S. for Bernie Sanders. Donating a kidney has only had positive impacts on her life, purpose and work, and she continues to thrive nearly a decade later.
This National Organ Donor day, learn more at Donate Life to explore your options.
[skyword_tracking /]
https://kapitus.com/wp-content/uploads/2020/02/iStock-890763738-scaled.jpg
1707
2560
Liz Alton
https://kapitus.com/wp-content/uploads/Kapitus_Logo_white-2-300x81-1-e1615929624763.png
Liz Alton
2020-02-14 11:54:04
2020-02-14 11:54:04
National Organ Donor Day: An Interview with Author and Coach Hillary Rettig