Mission: Entrepreneur: Jen Griswold's Pursuit to Help Veterans become Entrepreneurs
Jen Griswold is the author of Mission: Entrepreneur and CEO of a company with the same name. She grew up in a small town in Montana where her father owned a Cessna 172 small plane that her family always flew. So when Griswold was considering her post-secondary education, the U.S. Air Force Academy (USAFA) seemed like a great option; she entered the academy. Griswold became an Aircraft Maintenance Officer and soon found that it suited her better than being a pilot.
"As an Aircraft Maintenance Officer, I was given a lot of responsibility at a very young age. At 22, I was managing a flight line full of 250 Airmen and highly specialized aircraft. And I loved it!" She met her husband who was a pilot in the Air Force Academy.
Her and her husband couldn't start a family if they continued to serve. Griswold had to make a tough decision: Should she start having children or stay with her careers?
Griswold says, "It wasn't a job that fit well with raising kids, since the work was 24/7. I knew both my husband and I would be faced with the very likely chance that we would both be deployed at the same time. At the time, 2005, the operations tempo in the Middle East was very busy and our airplanes were constantly overseas…so I left Active Duty after six years of service. I transitioned to the Air Force reserves, and I am in my 19th year of service at the Pentagon as a Lieutenant Colonel."
Reentering the Workforce
Griswold had two children in two years. While she attempted to embrace stay-at-home motherhood, she found she missed working and began looking for a part-time job. She says, "With a Master's degree and a lot of management experience, I was very disappointed to find that the part-time options for someone like me were low-paying and were not jobs that would travel well with our transient, military lifestyle."
So Griswold, a child of two entrepreneurial parents, decided to start her own business. She says, "my bedroom was next door to [my parents'] office growing up, so I witnessed them build a life that allowed them the flexibility they needed. I figured I could do the same."
Her first attempt at being an entrepreneur was successful! Griswold started a home staging and decorating business; this was the catalyst that would propel her from solopreneur to author, speaker, and founder of Mission Entrepreneur.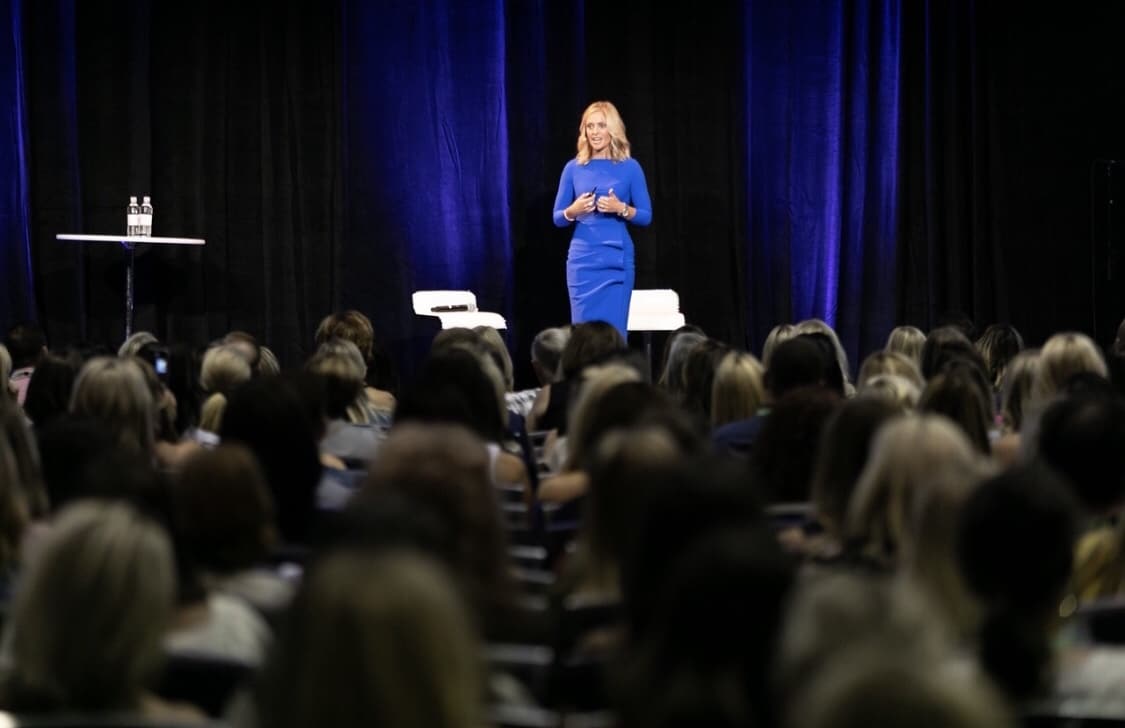 She says, "the empowerment I gained was priceless. I proved I could turn my hobby of decorating into a viable business, even with a busy husband and two very small children. And it got me thinking — how could I help other women empower themselves through entrepreneurship?"
Griswold's family moved from the west coast to the east coast after four years of running her own business. That made it impossible to manage her business from far away. So, she sold her business. In closing that door, a new opportunity arose.
She says, "One of my best friends from growing up offered me the chance to partner with her in a new skincare direct selling business called Rodan + Fields. I didn't know the first thing about skincare. But, I figured I could learn.  It excited me to share with other military spouses like me, who were in need of mobile, flexible jobs. By that time I had become aware that 90% of military spouses were under- or unemployed, and yet 90% reported they wanted to work."
The Start of Mission Entrepreneur
For female veterans and military wives, there's a big gap in employment opportunities. Griswold makes it her mission to change the mess of transitioning from transient military lifestyle to civilian life and work. Since 2010, her community's grown to approximately ten thousand women. Griswold estimates two thousand of those budding entrepreneurs are in a military family.
But her wish to encourage female veterans and military wives didn't stop with her direct selling business. In fact, it only motivated her to do more to help women with military ties to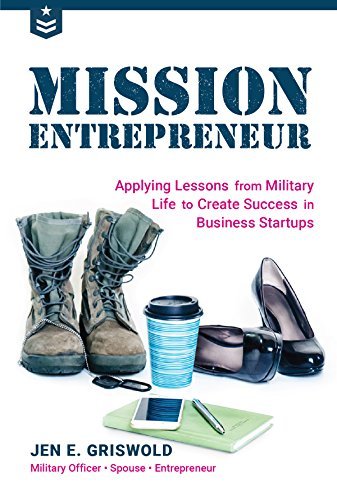 grow and succeed. First, Griswold started a blog for military entrepreneurs. Later, she decided to turn those stories into a book — Mission Entrepreneur.
Griswold says, "I wrote the book as a handbook for any military spouses who were like me and wanted to solve their own employment problems through starting a business. When I was in the beginning stages of my business, I always wished I had a mentor to help me through all the scary decisions of starting up. And [I designed] this book to be a form of mentorship for the military spouse entrepreneurs — I call them 'milpreneurs' — that needed some support and encouragement."
Griswold still wasn't satisfied with the impact she was having on military families. She decided to do more and founded a company with the same name — Mission Entrepreneur — so she could help women create careerss that suit their lives.
Griswold says, "At Mission Entrepreneur, we are a one-stop shop to help busy women turn their passions into a business and achieve portable business success, through inspiration, education & training. We also love providing a community of support with a service mindset to help women thrive."
Griswold never would've known she'd join the Air Force all those times she rode in her father's plane. She couldn't have imagined the difference she'd make in female veterans and military wives' lives in the future.
https://kapitus.com/wp-content/uploads/2019/11/bookjen-1-2800x1580-1-scaled.jpg
1445
2560
Erin Ollila
https://kapitus.com/wp-content/uploads/Kapitus_Logo_white-2-300x81-1-e1615929624763.png
Erin Ollila
2019-11-13 12:48:41
2021-10-09 02:10:10
Mission: Entrepreneur: Jen Griswold's Pursuit to Help Veterans become Entrepreneurs