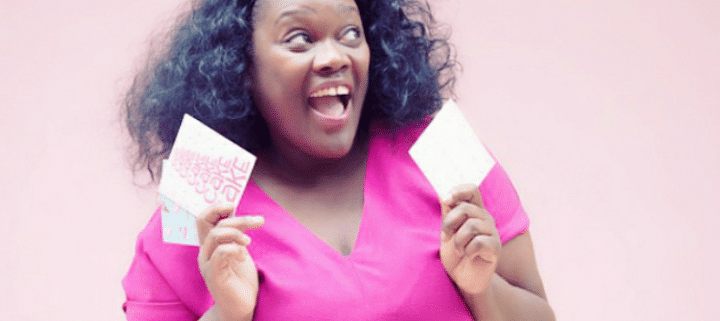 Unique Small Business Marketing Success Tips from Carla Sue Greeting Cards & Gifts
It might sound surprising in the age of mobile devices, instant messaging and constant contact with friends, family and acquaintances via social media, but business is booming for the greeting card industry. Younger consumers tend to buy greeting cards with clever messages and personalizations. They give cards to their loved ones on traditional holidays, and on other "card-worthy" occasions as well. Consumers today tend to lean towards unique small business marketing.
One small business that embraces this growing trend for stylish, creative greeting cards is Carla Sue Greeting Cards & Gifts, based in Houston, Texas. Founder Carla Lyles creates unique greeting cards and gifts with beautiful art and sassy messages. Messages center on themes of empowerment, self-care, and positive representation. For example, one of her company's birthday cards says "Eat Cake Queen," and a Mother's Day card says "Ain't a Woman Alive That Can Take My Momma's Place." Carla's branding is the very definition of unique small business marketing.
Carla's products are already being sold in retail stores throughout Houston and in five other states. Her company was recently featured by Vistaprint as part of their Micro Main Street celebration of small businesses.
Carla shares with us her success story and unique small business marketing tips. She speaks about building a thriving business and a memorable brand.
Be Real on Social Media
With nearly 5,000 followers, Carla is very active on Instagram. Carla found success by experimenting with social media, and by engaging with her audience personally. "Giving social media a chance was a big thing for me, because I wasn't big on social media prior to starting my business, and I had no clue what [to do] at all," Carla said. "But I quickly recognized that it was a very powerful marketing tool. Just by putting my products on social media, getting immediate reactions from people, it really [showed me], people are watching!"
Carla tried out different types of content to engage with people on Instagram. She tested a weekly live video series of her drinking wine, chatting with her followers. "I started making little skits, little shows[. I called one] 'Wind Down Wednesday' where I would drink wine and talk to people on Instagram Live, and I gained a lot of followers, it grew into a thing!"
The lesson? Don't be afraid to be real, be vulnerable and maybe even a bit irreverent. Businesses with real, authentic personality are often more likely to create lasting connections with their customers.
"People want to see the face behind the brand, see the person behind the product," Carla said. "Social media and marketing that way helped me discover, wow, people want to know who I am? And so I [began] sharing more about my life, how I got started, I gained a committed little following. It shocked me! It was really wild. And now I have [direct purchasing set up on] Instagram and Facebook, they don't have to even go to my website anymore."
Branch Out of Your Comfort Zone
Vistaprint recently featured Carla's company in their Micro Main Street program during Pride Week in St. Louis. "This was a pop-up event that Vistaprint [did] in different cities with different themes[. They] provided 3 small businesses with a great opportunity," Carla said. "They flew us out to St. Louis for the Pride parade, [helping] us with great marketing materials, [helping] me brand my business in a way that it hadn't been before. It was great for me to meet my customers in a totally different state."
Carla had a strong customer base in her hometown of Houston and in greater Texas. But, branching out into a new state and regional market was outside of her comfort zone. With her clever, creative brand and a well-designed pop-up shop, she had a great experience connecting with the customers in St. Louis.
Carla says she "was a little worried about how the customers would receive [her] greeting cards[. Some] of them have some profanity[. Some] of them are a little crass. But [they were] really well received! People [loved seeing her] products, just walking in to [the] pop-up space, with the marketing materials, postcards with [her] information. [She remembers first getting the] email from Vistaprint, [and thinking it was a joke]! They [talked] about flying [her] out to a different city, helping [construct] a pop-up space. But [in doing her] research, [she] realized [it] was legit."
Go Deeper Into Your Niche Market
Carla Sue Greeting Cards & Gifts are designed with a unique voice that tends to resonate with younger audiences, especially with Black women and communities who are often not being reached or represented by conventional greeting cards. Sometimes it's better to speak authentically to a niche audience. Sometimes it's better to build an enthusiastic following with your community, than trying to reach "everyone."
"I'm speaking directly to the people who feel unseen," Carla Lyles said. "Most of my products are in a conversation-based style of language that my audience, especially Millennials, understand. I know how it feels to feel like an unseen person, I am part of a disenfranchised group [and] I relate to these people, they're here. I started Carla Sue to help heal myself. [When I went] through a serious bout of depression, [I began] making things because I'm a creative, I made things that I related to, but then by putting it out in the world on social media, I recognized that I'm not the only one! And it made me want to speak louder for these people and be the voice for the voiceless via greeting cards. When you meet me in real life or see me on social media, I have a holistic vision of what my brand is and what my story is."
Be True to Your Community
Carla Lyles grew up in Houston and her business has strong roots in senses of belonging and home. She sells a variety of T-shirts that say "Keep Houston Dope". The city's recovery from catastrophic flooding from Hurricane Harvey inspired this t-shirt.
During the past two years, Carla Sue Greeting Cards & Gifts has sold more than 2,000 "Keep Houston Dope" shirts, with 50% of the proceeds donated to local flood relief efforts.
"Being in Houston means everything to me," Carla said. "A business mentor once told me, 'If you have the respect and love of your city, you can go anywhere.' I love Houston so much, I want the love of my city first before anywhere else."
Carla Lyles offers a winning example of how to build a relatable brand for your business. Do so with unique small business marketing based on the values of community, creativity and generosity. Follow her company on Instagram at @CarlaSueHouston or go shop for creative gifts and greeting cards at CarlaSueHouston.com.
https://kapitus.com/wp-content/uploads/2020/01/personal_photo-3.png
550
720
Ben Gran
https://kapitus.com/wp-content/uploads/Kapitus_Logo_white-2-300x81-1-e1615929624763.png
Ben Gran
2020-01-17 11:17:30
2022-01-27 19:10:25
Unique Small Business Marketing Success Tips from Carla Sue Greeting Cards & Gifts