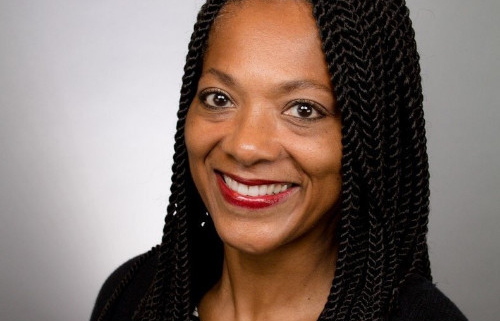 Karen Swim: Delivering Inspiring Ideas for Marketing and PR
Karen Swim built and grew Words for Hire LLC, a communications, marketing and PR agency based in Utica, Michigan. Words for Hire LLC helps companies with strategic communications, and to share their stories with their most important audiences. Karen's journey to small business ownership was part of a larger process. She talks of navigating major challenges and finding a bigger meaning to life–all due to her business.
As part of our series "Inspiring Black Business Owners", Karen shares her insights on what it takes for business owners to think like a CEO. She also speaks to the skill of building high-value relationships with customers.
Gaining Experience in the Corporate World
Before she started her own business, Karen Swim was successful in the health care industry. She worked for Quest Diagnostics–a Fortune 500 company. "I was in charge of operations in 7 states, I had a big job title, and I truly loved the company, but I wanted to take some time off," Karen said. "So I stepped out of the workforce to take six months off."
She had no idea just how drastically her life was about to change. "On my first day of assessing my next careers steps, my husband started showing symptoms of what would turn out to be cancer," Karen said. Sadly, Karen's husband's health condition worsened. Over the next two-and-a-half years she took time off from her corporate careers to take care of him until he died. Suddenly at age 39, she was a widow.
Starting a Business Out of Grief
Karen's path to becoming a small business owner began under tragic circumstances. But, she quickly found her inner strength and resilience to move forward. "I'd used all of my savings to care for my husband. I was widowed, and seeing the world through a different lens," Karen said. "Traditional work no longer felt like the end of my journey. I wanted to impact the world in a different way, and have influence over the type of work culture and environment I was in. I wanted to do work that mattered, that made me feel good every day."
Karen moved to Michigan to be closer to family. She knew that she had to start earning an income again after being a caregiver for her late husband. So, Karen decided to start her own business. She started doing freelance writing and PR projects, drawing upon her corporate experience and her creative craft as a professional wordsmith.
"I always loved writing, which is why my company is called Words for Hire LLC," Karen said. "Starting my own business was empowering. I never focused on how big a move it really was. It took me like 2 years to realize, 'I'm an entrepreneur, what am I doing, I don't know what that means!'"
Over time, Karen developed a more sophisticated business model. She also built a larger team for her agency. "I think this is a mistake that a lot of business owners make, especially professional service providers and consultants, is that you're often too focused on your craft or your expertise," Karen said. "But being the CEO of your business is a different situation. You have to go get the new business, close the sale, set your procedures and policies, be in control. Dealing with clients as a CEO instead of just as a vendor plays into how they treat you and how much they pay you."
Building a Career of Freedom, Meaning and Mission
Karen Swim has been able to create a more flexible and creative way of earning a living. She works on a variety of projects for clients that she's passionate about in technology, health care and nonprofit fields. "I love the freedom to choose the type of work I do, the clients I serve, the skillsets that I develop. I am charting my own course and able to help others along the way to do the same," Karen said. She "worked with a colleague on the launch of a disability care app, Joshin. The founders are incredible people who are doing such great work. We not only met our goals but it was truly fulfilling to know that we played a small part in helping families connect with a much-needed service."
Karen believes that other Black small business owners can find the same freedom and empowerment that she has achieved. "The playing field is not level, that's the reality of the world we live in, but you can make your opportunities," Karen said. "Reach out to people who are where you want to be. Mentorship is essential. Don't be afraid to ask other people for advice and ideas and support."
Learn more about Karen Swim and her company at WordsForHireLLC.com, or connect with her on LinkedIn.
https://kapitus.com/wp-content/uploads/2020/02/karen-swim.jpg
500
500
Ben Gran
https://kapitus.com/wp-content/uploads/Kapitus_Logo_white-2-300x81-1-e1615929624763.png
Ben Gran
2020-02-10 13:41:49
2022-01-27 19:01:36
Karen Swim: Delivering Inspiring Ideas for Marketing and PR