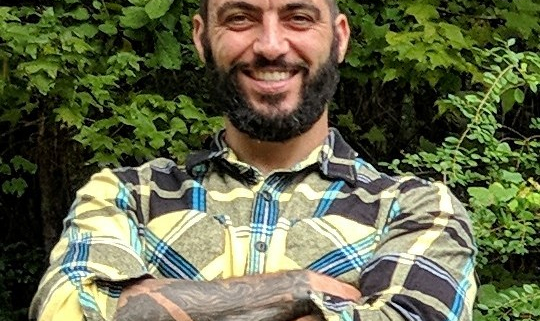 Nathaniel Hovsepian is a U.S. Marine Corps veteran who decided to use his skills and initiative from the army to become an entrepreneur. Today, along with his wife Brittany, Nathaniel owns and operates The Expert Home Buyers, established in 2016 and one of the premier home buying companies in the Central Savannah River Area of Georgia and South Carolina. The Expert Home Buyers buys old homes and fixes them up for renters or new home buyers.
Nathaniel and Brittany are handy and resourceful; they love fixing houses, but they also consider their business's is to serve the community. They rehab, renovate, and fix houses to help people out of stressful living situations. In turn, they're making their community a better place for people to live, while supporting the local economy.
Serving the Community By Creating Better Housing
"I started The Expert Home Buyers back in 2016 when I realized that I had a unique set of skills that I could use to help beautify my community as well as putting some money into my pockets," Nathaniel said. "We give back to our community by taking old houses that are either eyesores, or points of contention in a neighborhood, and bringing them up to today's standards of living and community. This helps the area gain a new sense of pride and allows the value of home prices to continue to rise. We also value charity, and we strive to make monthly contributions to local foundations and military charities like Wounded Warriors and USO."
Building a Business Based on Military Values
Nathaniel discovered that the powerful life lessons and values that his time in the U.S. Marine Corps taught him guide his work as an entrepreneur.
"In the Marines, one of the core principles is integrity, and I stick to that principle now in practice with my business by being as transparent as possible," Nathaniel said. "Being a Marine Corps veteran has made me very open and honest with the house sellers that I come across."
In Nathaniel's business, he buys houses with immediate cash offers from people who don't want to own their houses anymore. Sometimes these people are facing foreclosure, managing the death of a loved one, or dealing with financial stress. Nathaniel strives for the highest level of ethics in his business conduct, which he learned in part, from the military.
"No matter what the situation is, we strive to treat people with courtesy, respect and honesty, and give them a fair cash offer that leaves everyone feeling like it's a win-win situation," Nathaniel said. "We never want to take advantage of people's misfortunes, we just want to help people get out of their troubled situation, so they can move forward in life, and we can fix up the house so it's in better shape. We always want to do business in a way that people are happy to work with us and eager to recommend us."
Overcoming Obstacles with Marine Grit
Nathaniel learned the values of hard work and determination from the Marines. He still embodies those principles in his life as an entrepreneur.
"I have struggled to get this business off the ground, as I am sure that most new business owners have, but I was able to overcome my challenges by applying the grit and determination that I learned in the Marine Corps," Nathaniel said. "The values of hard work and determination have gotten me through some tough times while building The Expert Home Buyers."
Nathaniel made it through 13 weeks of U.S. Marine Corps boot camp, four years of active duty service, and a 9-month tour in Iraq. He led a recovery crew that repaired and maintained an entire section of tanks in a combat zone. The obstacles involved in his business probably seem relatively calm and peaceful, compared to his army duties.
Being a Veteran Business Owner Feels Even More Meaningful
Nathaniel values creativity and community that he's developed. He appreciates the life that he and his wife create together as business owners even more because he's a veteran.
"Being a veteran business owner means a lot to me, because ultimately, for everyone who puts on that uniform in the Marines and other branches of service, this is what we fight for," Nathaniel said. "We fight for the right to go out there and make something of ourselves. We fight for the freedom to be able to get up and work hard to accomplish whatever it is we desire. Being a veteran business owner also means that my time served was worth the effort, and that I have been able to apply all of the things that I learned about myself and the world during my time in the Marines."
Being an entrepreneur isn't always easy. With passion, resourcefulness, motivation, and drive, it can be a great way to make a living and build a life. Nathaniel Hovsepian embodies the values of entrepreneurship, the military, and the spirit of service to the community. To see someone create an incredible life and do business based on principles and lessons they've learned is truly inspiring.
To learn more about Nathaniel Hovsepian and his business, please visit www.TheExpertHomebuyers.com
[skyword_tracking /]
https://kapitus.com/wp-content/uploads/2019/11/nate-headshot.jpg
572
540
Ben Gran
https://kapitus.com/wp-content/uploads/Kapitus_Logo_white-2-300x81-1-e1615929624763.png
Ben Gran
2019-11-12 14:24:53
2019-11-12 14:24:53
How this Veteran Entrepreneur Gives Back to the Community — By Fixing Up Houses