How this Online Pet Store Built a Community of Reptile Owners…With Free Crickets!
Business owners are always brainstorming fresh, unique marketing strategies for their companies. In the social media age, it feels like everyone is bombarded with advertisements from brands. How do you cut through the clutter? The answer is simple: give away free crickets.
Perhaps that strategy sounds strange. But if you're in the business of selling pet food to exotic reptile owners, "free crickets" can be a game-changer. That's what Jeff Neal, owner of The Critter Depot, discovered when he was testing a new marketing plan. The Critter Depot is a specialty online retailer for reptile owners, shipping millions of live feeder insects every month. They sell crickets, mealworms, fly larvae, roaches and other tasty treats reptiles love to eat.
For the Love of Critters
The Critter Depot is also a supportive and informative resource for reptile pet owners. In addition to supporting reptile enthusiasts, Jeff Neal started a new online community for people who love their scaly, spiky creatures: a reptile network called CritterFam.com.
"CritterFam.com is our recently launched reptile network, where owners can post pics of their beautiful pets, and comment and support each other," Jeff Neal said.
It's very challenging, setting up a new online community. There's already Facebook and Instagram and other social networks. What if you build a new site but no one uses it? No one likes being the only person at a party, even if they have a lovable pet lizard to keep them company. Would Critter Fam turn out successful, or would it end up being "Friendster for Lizard-lovers?"
"We struggled with the challenge of starting a new network and trying to attract users," Jeff said. "People want to participate in a thriving and engaging community, and most newly-created networks just don't have that level of engagement. We needed to figure out a way to quickly generate interest and build engagement on our site, especially in a way that would have a positive network effect and get more people involved."
But how can you motivate reptile owners to participate in an online social network? What do reptiles love most, other than "heat lamps" and "comfortable rocks to rest upon?" It turns out the answer is: crickets!
"After some brainstorming, we decided that we would incentivize users to participate in Critter Fam by giving away a Year Supply of Free Crickets," Jeff said. "This is how the Cricket Contest was born."

Incentivization Increases Brand Traction
Held monthly, the Cricket Contest is a photo competition encouraging reptile owners to share snapshots of their most photogenic lizards, snakes and skinks, with the prize each month being a year's supply of crickets. Reptile owners get a chance to win free crickets by sharing photos of their pets and participating in Critter Fam. So far, it's been a big success!
"The network has only been active for about 8 months, but we already have about 2,000 members, who post pictures and share topics about reptiles and amphibians," Jeff said.
But how does Critter Fam select a winner? After all, reptile beauty is in the eye of the beholder. To decide which bearded dragon pics are truly cricket-worthy each month, Critter Fam uses old-fashioned crowdsourcing – a.k.a. democracy.
"The photos that people share on our site are all wonderful, but unfortunately we can't give free product to everyone," Jeff Neal said. "To choose a winner each month, we came up with the concept of 'Critter Gold,' a voting system where users award points by upvoting people's posts. Each post has an icon in the upper right corner, and when users click that icon, they give that post Critter Gold. At the end of each month, the post with the most Critter Gold wins a year supply of free crickets."
The Critter Fam Cricket Contest has been a big success. The site is full of fun photos of lizards lounging in their well-furnished terrariums, cuddling with their owners and even enjoying a car ride in a windshield "hammock" or wearing a "wizard lizard" costume. It's fun to see the different ways that people engage with their pets and share joy with a community.
There are a few key marketing lessons that your business can take away from Jeff Neal's Critter Fam success story.

Go Deeper Into Niche Marketing
It can be hard to strike the right balance between growing your brand and rewarding your most loyal customers; Critter Fam is successful because they built a fun community for a niche audience who cares deeply about the subject.
Your business probably can't compete with a mainstream social site – but you don't have to. You can set up your own niche version of "Facebook for reptile lovers" or whatever your niche may be.
"People want to see really engaging content that they can relate to," Jeff said. "And I think that's why our reptile network has done well so far, because it's pulling together like-minded people who have the same questions and interests. Social media sites are popular, and forums are essentially social media sites for niches."
Be a Community Builder
The new frontier of small business marketing goes beyond making sales to your customers, and moves toward building a larger community where your customers can make connections with each other and get additional value from your business.
"There are already reptile forums that have been around for a long time," Jeff said. "But they aren't connected with an eCommerce store, so this gives our experience a little bit of a twist. And it could become a trend."
Think about the ways you can generate a larger sense of community surrounding your business. If you own a brick-and-mortar retail store, look to share your space with local artists or nonprofit organizations after hours. If you're a business consultant, start a discussion group on LinkedIn. Give people a reason to stay in touch with your business and keep coming back — be generous and connect people with each other.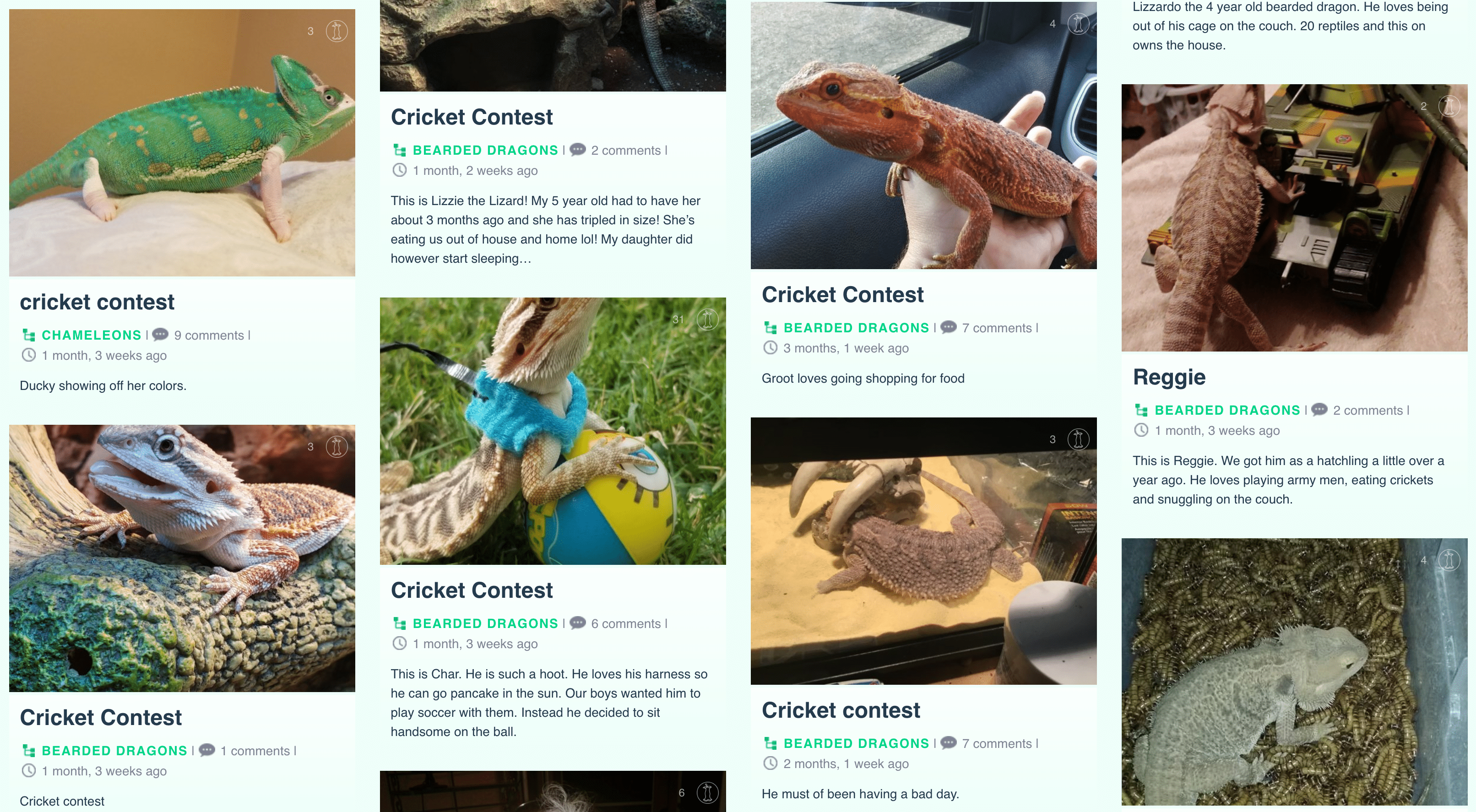 Adopt a Guerrilla Marketing Mindset
Jeff Neal could have taken the easy way out and just bought more Google ads to sell more crickets. But instead, he got creative and built something much bigger.
"My advice for other business owners is that you really need to be creative," Jeff said. "Don't just post on Facebook or buy Google ads, because everyone else is doing that. Instead, you need to embrace the mindset of a guerrilla marketer, and figure out ways to get your product or service in front of thousands of people."
Congratulations to Jeff Neal and the Critter Depot on the success of your marketing strategy and new Critter Fam site. Hopefully you'll be giving away crickets (and selling even more crickets) for many years to come!
https://kapitus.com/wp-content/uploads/2019/11/img_0721-scaled.jpg
1920
2560
Ben Gran
https://kapitus.com/wp-content/uploads/Kapitus_Logo_white-2-300x81-1-e1615929624763.png
Ben Gran
2019-11-18 17:14:09
2022-01-27 19:16:38
How this Online Pet Store Built a Community of Reptile Owners…With Free Crickets!