How Do Small Business Owners Build Their Websites?
So you've decided to take your small business to the next level by building a website – you should congratulate yourself for taking the leap into the Internet. Whether you're a small business with 200 employees and several different offices, or you're an independent retail business or restaurant owner, you are about to expand your customer base and company brand to web browsers around the world. 
In our last article, What Kind of Website Do I Need, and is it Worth it?, we discussed the cost of the things you will need to build your site, such as a domain name, web hosting platform, etc. Here, we will discuss the steps you need to take to build your new site.
Starting from scratch can be confusing, as there are lots of choices to make. First, there are two ways you can go: if you are looking to simply promote your brand and check off the box for your business that says "online presence," then low cost, do-it-yourself website builders such as Wix.com, SQUARESPACE or GoDaddy would be the best bet for you. 
If you're seeking to build a robust site that can generate online sales and market yourself as an authority in your industry, then creating a site from scratch may be your best bet. This will, of course, require a commitment of time, patience and money, but it will be well worth the effort. 

DIY Website Pros and Cons
Using a DIY website builder is, of course, the cheapest route to building a new site, and there are plenty of advantages to using one of them: they're relatively cheaper than building your own site, usually costing a low monthly fee; they're easy to use, and they typically provide search engine optimization (SEO) and analytics features, as well as security.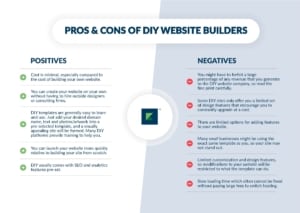 Some of the drawbacks are, however, that there can be hidden fees if you choose to expand your site, and other users may use the same website template that you've chosen, which would make your site look unoriginal. Here is a full list of pros and cons of using a DIY web builder that you should be aware of: 
Investing in Your Own Site – What you Need
If you are looking for a site that can process direct sales from customers, attract lifetime customers and build sales leads, then you most certainly should look to construct your own robust site from scratch. While this will entail a long, costly process, the effort will be worth it in the long term, as it will most likely yield the best results in terms of increased sales, brand recognition and customer base. The cost of a new website may be daunting at first, but remember the old adage, "you have to spend money to make money."
Just consider – according to the US Census Bureau, e-commerce sales accounted for 13.8% of all retail sales in the first quarter of 2021, a steady rise from 5% in the first quarter of 2012. The pandemic only increased online purchases, as people had to make purchases from the comfort of their homes. Most economists believe, however, that the steady increase of online shopping, including food orders from restaurants, will only increase. 
Keep in mind that e-commerce sales are so prevalent now that they even contributed to the fall of brick and mortar giants such as Toys R Us, and economic experts believe e-commerce will only continue to rise. Given this, now is the time to offer your products and services online through your own site. 
A basic laundry list of things you will need to create your own site include:
High Speed Cable Internet;

A Domain name;

A

Web hosting platform

such as BlueHost, HostGator or GoDaddy, or your own server;

A Basic website layout;

A content management system;

A web designer/programmer, and
Designing & Building Your Site
Now that you've decided to build a website, know that designing a thorough and visually appealing site will be as important as the quality of the products or services you are selling. Examine the websites of your competitors to get ideas of what you believe works and doesn't work.
The first thing you will need to do is ask yourself what you want your website to accomplish so that you can create subsets of your website's welcome page. If you are seeking to expand the reach of your brand and ultimately increase sales, a basic list of items to highlight on your site could include:
A welcome page

that will include your company's logo, a basic explanation of who you are, your mission statement, and company reviews. 
Remember, the welcome page is the first thing that web browsers will see, and it will be the initial reason they decide to stay on your site. Work with an experienced web designer to make it visually appealing, and without being too wordy, define your company and what it has to offer. 
A subset page that offers a catalogue

of your company's products.
A subset page where browsers can actually purchase your products.

This will also require your page to have a web-based payment module to process payments via credit or bank card.

An "About Us" subset page

informing browsers who you are, your history and perhaps any video presentation demonstrating your dedication to your products and services.

A "Contact Us" subset page

, and

A blog subset page

where you can write and post articles about trends in your industry to make you seem like an expert in your field.

Content management systems such as

Wordpress

, can make blogging easy.
While it is time consuming, blogging SEO optimized articles about your industry is one way to keep potential customers coming back to your site and thinking about the industry in which you are selling products.
The second task you want to complete is to formulate a basic layout of your website. 
For our purposes, we used a fictitious company, "Joe Smith's Construction Supplies," to create an example of how you may want to outline your website:
Nuts and Bolts
As far as the nuts and bolts of building your own site goes, you can take courses to learn computer code and web design which, of course, will cost you time and money. Otherwise, you probably will need to hire a web designer/programmer to build your site. You can hire one on a freelance basis, but as you interview them, ask to see websites they have constructed in the past, as well as references. 
Once you do, work with both them and your website consulting firm to create a visually appealing, original and user friendly, responsive site that is optimized for computers, tablets and smartphones. You may even consider creating a limited test website, known as a beta site, to find any bugs in your site before you officially launch it. 
Next Up
"If a tree falls in the forest and no one is around to hear it, does it make a sound?"
What good will an awesome new website do you if no one is looking at it? Now that you've gone through the long and arduous process of building a great website, it won't automatically mean more sales. 
In the next article, we will discuss general ways to draw viewers to your site. After all, web traffic turns into sales, and sales turns into potential lifetime customers. 
https://kapitus.com/wp-content/uploads/CYCI_How-to-Build-a-Website_-1.jpg
1548
2101
Vince Calio
https://kapitus.com/wp-content/uploads/Kapitus_Logo_white-2-300x81-1-e1615929624763.png
Vince Calio
2021-07-16 16:18:03
2021-08-08 14:44:04
How Do Small Business Owners Build Their Websites?