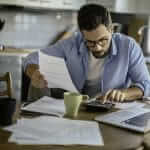 How Artificial Intelligence is Driving Customer Experience
Artificial intelligence (AI) uses computers to mimic and perform intelligent tasks that normally require human brainpower. AI can adapt when interacting with humans by using speech recognition, language translation and visual perception to execute decision-making tasks.
International Data Corporation, a marketing intelligence and service company, predicts that by 2019, 40 percent of digital transformation initiatives will be supported by some sort of cognitive computing or artificial intelligence. By 2020, 85 percent of customer interactions will be managed without a human, according to Gartner.
Face-to-face interactions may be diminishing in the era of AI.  But, there are ways businesses can connect and still remain customer-friendly.
Ask Questions, Offer Tailored Recommendations
Many businesses are asking customers to do short online surveys to understand their preferences.
For example, Madison Reed, an at-home hair color company uses an online questionnaire coupled with a live chat with a licensed colorist, a phone line, and email to give customers suggested recommendations based on their hair texture, amount of (or lack there of) grey and current hair color and history, as well as the look they are trying to achieve. The color advisor questionnaire starts with asking potential customers about the end result they are hoping to achieve. Doing so allows the company to work towards that goal before recommending a particular product tailored to that individual.
Another example is 1-800-Flowers.com, which has Gywn, an AI-based virtual assistant chatbot. Gywn's job is to help tailor gift recommendations for visitors by narrowing their search for the right gift.
What these retailers have in common is offering tailored recommendations based on a customer's answers. It can make an impersonal online experience feel more personal by detecting customer patterns for a more intimate virtual touchpoint.
There are plenty of ways to tailor your recommendations on a smaller scale.
Consider asking customers a few simple questions.  Ask about where they live, their favorite type of music, color and activities to determine what products or services might appeal to them.
To track trends, review sales orders by name and previous credit card receipts. Keep detailed bookkeeping.
By mining existing customer information you can target each one uniquely, even as a small business.
Connect Creatively
With the growth of tech-enabled conveniences, being memorable and accessible may make a big difference in the user experience.
Domino's Pizza has been at the forefront of creating new online customer experiences. They are the company behind tweeting pizza emojis for orders.  They also use an AI-driven chatbot named Dom via Facebook Messenger.  With Dom, customers can order without having a pre-configured "pizza profile." It's fun and a great way to get customers to try out a service, initially for its novelty, but may keep users coming back.
Small businesses and nonprofits should also consider what UNICEF is doing with U-Report, a chat bot that helps gather large scale data from people in remote parts of the world. Users must register, for free.  Once registered, they voice concerns and frustrations about human rights issues, natural disasters, health outbreaks, among other timely topics. According to the website, individual messages are confidential but aggregated data is transparent and can be viewed in real time.
It's grown exponentially, adding 1.5 million new users in 2017, a 48 percent increase from 2016, for a total of 4.6 million users.
Make it Seamless
In an ideal situation, customers would not realize the interaction is AI-driven. Many businesses that rely on the customer service industry are working to reduce costly human interactions.  Artificial intelligence helps them accomplish that while also allowing them to focus on other services.
For example, Hilton Hotels is using its chatbot, Connie, an AI-based concierge service, to cover basic tasks, like scheduling a spa treatment, to allow the hotel staff to focus on taking the guest experience to a higher level, according to Hotelogix.
Thanks to recent advances in artificial intelligence, many cell phone makers areembedding AI technology into chipsets, making it possible for hotels to offer their guests mobile keys they can download or access via their mobile device. For example the Coralville Marriott Hotel and Convention Center in Iowa are allowing guests to bypass the hotel front desk check-in, in favor of mobile keys. Guests can check-in online before they arrive, walk into the hotel and go directly to their room without having to stop at the front desk.
Many hotels, including the Wynn Las Vegas, are also equipping rooms with artificially intelligent, voice-activated smart devices like Amazon's Echo with Alexa. Guests can then make instant modifications in their room. Customers get a very personalized experience through the ability to control lights, room temperature, drapery and television,
While hospitality still means service, in the current market it now means using technology, like artificial intelligence, to help.
Technology will continue to play a significant role in changing the day-to-day operations of small businesses.   Don't get left behind.  Keep up to date by learning more about top technologies for 2019.
https://kapitus.com/wp-content/uploads/2020/05/5-essential-financial-documents-you-need-to-apply-for-a-business-loan-150x150-1.jpg
150
150
Wil Rivera
https://kapitus.com/wp-content/uploads/Kapitus_Logo_white-2-300x81-1-e1615929624763.png
Wil Rivera
2018-12-21 00:00:00
2018-12-21 00:00:00
How Artificial Intelligence is Driving Customer Experience