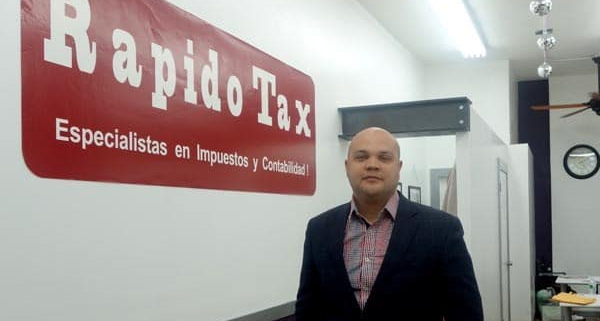 A Day in the life – How One Business Owner Simultaneously Runs 3 Businesses
Will DeJesus is a special breed of entrepreneur. Instead of running one business and dealing with the busyness of a life that goes along with that, he manages three stand-alone companies in Queens, New York, and does it seemingly without breaking a sweat. His companies are: Rapido Tax a brick-and-mortar tax preparation business; Republic Groups, a financial management consulting firm; and TaxTerminal.com, an online tax prep service.
How does he do it?
DeJesus is a master of prioritization. With three businesses under his leadership, he is forced to "look at everything in the week and figure out what I can accomplish," he says. "I try to allow some flexibility in my schedule, and it helps that my employees have more regimented calendars so I know where they are at all times."
His advice to other small business owners starts with a real look at the bottom line.
"Do everything you possibly can that costs you time, not money," he says. "I'm talking about research—research how to build a website, how to get products, where you can get things cheaper. Do all of those things before you spend a penny."
Next: take things slow. He says it is better to spend a ton of time planning than to jump into something when you aren't sure. "Measure twice so you can cut once," he says.
"And if you want to grow, you need to understand the scalability of what you are doing," he says. "Do you have a business that could be replicated without you being there or is the majority of the business you? Think hard about how you can scale because that is what will help you in the long run."
Taking the entrepreneurial leap
Seeing DeJesus now, you'd think he was destined to be an entrepreneur. And while the endeavor did interest him, if you rewind the clock back 20 years, you'd have met a man with a vastly different job on the brain.
"I always wanted to be an entrepreneur … well, an entrepreneur and a baseball player," he says.
DeJesus went to Queens College on a baseball scholarship and majored in accounting. He graduated and tried out for the Detroit Tigers in the late 90s. When that didn't work out, he leaned on his degree and ended up working internationally for the next decade — from the U.S. to Latin American and beyond — auditing taxes for Fortune 500 companies and learning the ropes of what it meant to manage a business's books.
In 2010, he found himself at an accounting firm without the advancement opportunities he desired. When a promotion didn't happen, he decided to take a payout and start something new, albeit reluctantly.
"Honestly, it wasn't a thing where I had a ton of courage to go out on my own, it was just a really good time to do it," he says. "The economy had tanked, I got a package and I knew it was time to go."
Will packed up his life in Manhattan and went home to Corona Heights, Queens. There was something comforting about going back to Queens. His family and friends had since moved away, but there was something about being home and building his business there that felt, "right." A few months later he opened Rapido Tax in Corona Heights.
"Rapido Tax provides personal tax and business services," he says. "It's kind of like a year-round H&R Block for the Spanish community."
Rapido Tax grew, but soon larger companies in need of DeJesus's consulting services started calling, so he launched Republic Groups as a separate consulting company. For the next four years, he managed his Corona Heights location (with the help of an employee) and clients with Republic Groups.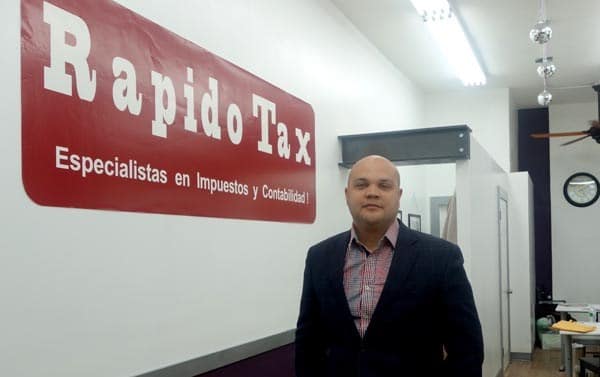 Expansion
Business grew quickly for DeJesus, and in 2014, he opened a second Rapido Tax location in nearby Jackson Heights, Queens. But DeJesus began feeling stretched too thin — clients were streaming in both for Rapido and Republic Groups. "With my consulting business, I didn't feel like it was a sustainable model because it required me to physically be there all the time," he says. "I needed to build a different kind of business that didn't require such a time commitment."
That business became TaxTerminal.com, an entirely online tax preparation business made to compete with bigger players like TurboTax. DeJesus's main difference? Those in need of tax advice don't have to figure out taxes on their own; TaxTerminal provides a certified professional to help every step of the way.
"There are only a few players in the industry and they are all very rich," he says. "This model just isn't attractive to them. They design their products around self-prepared returns and spend millions on advertising whereas we have professionals waiting to help people individually. We do individual tax returns, accounting and payroll and audits for businesses."
DeJesus's new business model has worked out so well that, with the help of small business financing, he's most recently been working on opening another office — a loft-like space in Long Island City. "I'm really lucky to have had Strategic Funding with me this whole way," he says. "They've helped me open every one of my new locations with short term business financing."
Making it all work
So, how exactly, does one person simultaneously run three different businesses?
DeJesus: "I would love to say that I'm a morning person, but that just isn't me. I have far more energy at night."
Mornings, DeJesus walks the 19-minutes from home to his Jackson Heights office and usually gets there around 10 a.m. (much earlier during tax season), but only after first stopping at Starbucks next door for his daily cold brew. His days consist of answering questions from clients.
"I have a tremendous amount of email; I also text with them a lot," he says.
He often doesn't leave the office until 9 p.m. and goes to the gym, runs a few miles, lifts weights, stretches, and then goes home for a quiet night. "I don't have cable because I'm just in front of my computer too much throughout the day," he says. "I'll usually eat something like Chinese food and relax with my collection of DVDs."
DeJesus works even more during tax season and can often be found going between client sites.
While his work schedule seems quite taxing, DeJesus has learned the hard way to prioritize taking one day off per week. About two years ago, he decided to take a day off and woke up terribly ill the following morning.
"I remember planning a day off for friends to come over and watch the Mayweather fight," he says. "It was really fun, but the next morning I couldn't get out of bed. My body didn't work. I had to sleep for three days straight and this was in the middle of tax season."
The experience taught DeJesus the importance of relaxation and these days he takes a day off one day every week in addition to teaching IT Audit and Control at Baruch College every Friday.
"That is my fun day," he says.
DeJesus's drive to do better every day makes working so hard worthwhile.
What drives him, exactly?
"The pursuit of taking an original idea and proving the concept beyond a reasonable doubt drives me," he says. "I'm driven by motivating my staff and students to the point where they surprise themselves with their accomplishments. I'm also driven because I know I have to lead by example.
"But most of all, I am driven to control my own destiny—to say that I'm going to build this house and when I'm done it will belong to me and others are going to build around me—that drives me every day."
Kapitus provides needed operating funds to small businesses. Strategic Funding has helped hundreds of industries including: restaurants, personal services, construction, medical, manufacturing, agriculture, retail stores, automotive, and food stores.
https://kapitus.com/wp-content/uploads/2018/11/Rapido-Tax-Will.jpg
377
600
Wil Rivera
https://kapitus.com/wp-content/uploads/Kapitus_Logo_white-2-300x81-1-e1615929624763.png
Wil Rivera
2016-11-30 00:00:00
2022-08-26 17:45:40
A Day in the life – How One Business Owner Simultaneously Runs 3 Businesses