Best Free & Low Cost Email Marketing Solutions
Well-crafted and intentional email marketing is one of the best ways for small businesses to stay in contact with their existing customers while also serving as a great tool to convert prospects into new customers. Those who opt into a company's email marketing program actively want to keep up to date with your recent activities, so it is essential that a company's email communications are strong and engaging. Email marketing, however, can be an intensive process and creating interesting emails is a job all its own – which is where an email platform comes into play.  Using an email platform – which comes with a wide array of tools to help you perfect your email marketing strategy –  can help you make the process more seamless, saving you both time and money.
Email marketing platforms help businesses manage, schedule, and send mass-emails to those who opt into your mailing list. There are hundreds of email marketing solutions on the market today, but several are either intensive to use or disproportionately expensive. There are, however, many free or low-cost options for businesses just beginning their email marketing ventures or even those who have a following already that can accomplish your email goals as well as the more complex and more expensive platforms This article pulls together several of the most robust and easy to use email marketing tools that are either free to start or wholly free to use. This list does not rank each platform from best to worst but instead shows the unique merits of each platform as certain tools may better suit certain email marketing strategies.
HubSpot
HubSpot is one of the most well-known and reputable email marketing tools available and their free plan is both accessible and generous. HubSpot's collection of proprietary templates are extremely helpful for teams starting from scratch and their drag and drop editing systems require no design knowledge to create professional, stunning emails.
HubSpot uses data to better target your subscribers including time zones and lifecycle stages. Their analytics page is sleek and displays the most pertinent information front and center. HubSpot also offers several packages of marketing solutions so if your team is looking to expand into blogging, lead management or SEO, the advantages of HubSpot's email marketing system remain true for their entire suite of products.
Pricing: HubSpot has an unlimited-length free plan. HubSpot's free plan has a monthly sending limit of 2,000 emails, making it an exceptional choice for local or new small businesses. There are no subscriber limits, but each email used on HubSpot's free plan will include the HubSpot logo.
Mailjet
Mailjet is an incredibly robust email marketing tool with several impressive and proprietary tools to maximize your company's marketing potential. Mailjet also has unique tools similar to productivity software – like Monday.com – that allows a team manager to delegate tasks right from the Mailjet dashboard. If you employ a designer, writer, marketer and other staff in your email marketing team, Mailjet can be a great tool for keeping tasks in order and emails on schedule.
Mailjet's statistics and analytics data is extremely in-depth and allows teams to tweak their campaigns based on existing data. Mailjet can also be linked to Google Analytics allowing teams to connect their email ventures with other marketing projects.
Pricing: Mailjet has an unlimited-length free plan. Mailjet allows teams to send 6,000 emails per month and 200 emails per day. There are no subscriber limits and free users have access to comparably more statistics and analytic info compared to similar tools.
Sender
With several big-name corporate advocates and an incredibly feature-rich free program, Sender feels like a too-good-to-be-true deal. Sender advertises itself as the email solution for both beginners and industry heavy-weights with both audience-creating and audience-retaining tools. Sender's unique email delivery automation tools keep tabs on feedback loops and bounced emails to give teams a better idea of where their emails are actually making contact with customers.
Sender also plans to implement Push notification integration making it the best tool if your business is solely online or looking to expand into new marketing opportunities. Sender's API integration is notably seamless and allows for easy website integration and subscriber contact info synchronization.
Pricing: Sender's "Free Forever" plan is incredibly feature-rich and requires no credit card upfront. Teams can send up to 15,000 emails per month and can manage up to 2,500 active subscribers at a time. Sender's free package also includes all of their analytic and future Push notification integrations. The only advantage to paying the monthly fee is to increase the cap on monthly emails and overall subscribers.
Omnisend
Omnisend is described as "the preferred email tool for ecommerce companies and has been long held as the king of integration tools". Omnisend has several unique tools benefitting ecommerce companies including dynamic discount codes. Many ecommerce companies feel that the platform's automations are also far superior compared to similar tools and analytic data is all geared toward maximizing ecommerce potential.
Omnisend also offers several website integrations including landing pages and sign-up boxes as well as a suite of tools to make compelling popups sure to net you a subscriber. Omnisend also integrated sales statistics into general analytics giving teams even better insight into successful campaigns. Unlike programs like Sender which have roadmap plans to integrate tools like push notifications, Omnisend has such tools already integrated into their most basic plans.
Pricing: Omnisend's free package has no time limit and a more than sufficient set of tools for ecommerce companies. Teams can send up to 15,000 emails a month and there are no subscriber limits. Free users also have access to in-depth performance reports and analytics that are traditionally locked behind paywalls.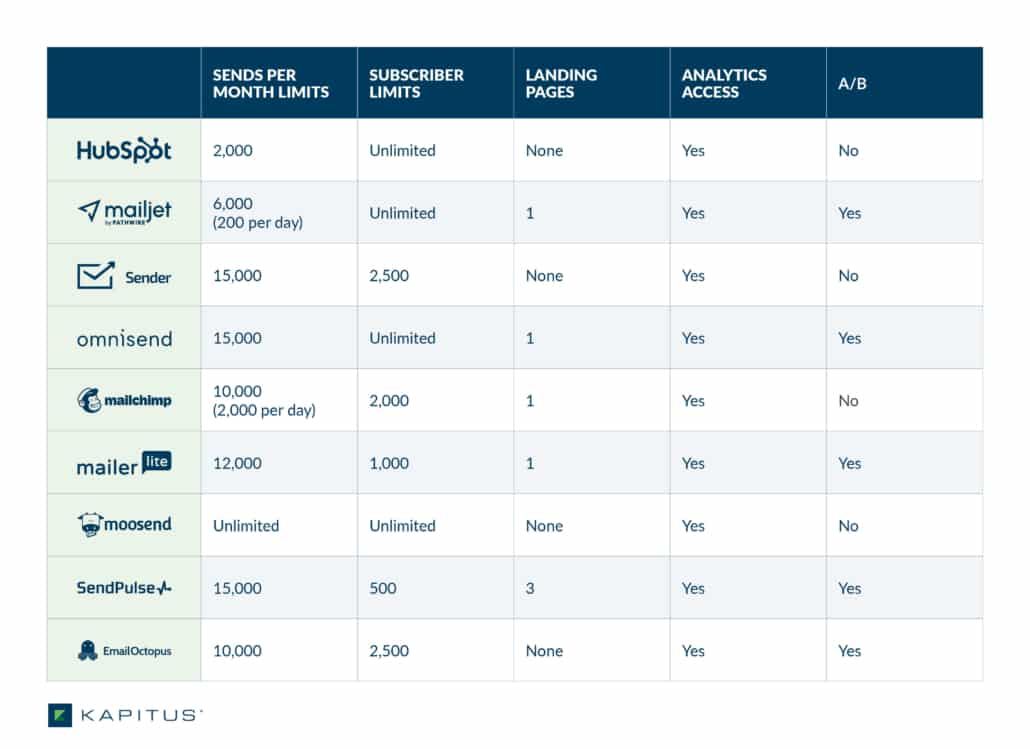 Mailchimp
Mailchimp has long been a go-to tool for email marketing and campaign management. The title is well-earned as Mailchimp's suite of tools is robust and suitable for just about any team of any size. Mailchimp is also a web domain manager and ecommerce store platform making it a good choice for businesses with plans to expand in the future. Massive companies like Vimeo and TED are long-time advocates of Mailchimp and the service's sleek user interface is sure to please.
Pricing: Mailchimp's free plan has no expiration date but is notably less robust than other free options. Free users are allowed only 2,000 contacts and access to the basic level of email builder and CRM tools. Mailchimp's essentials plan, however, which is $9.99 per month, is likely the best option for growing businesses who plan to eventually branch out into more robust marketing ventures.
MailerLite
Mailerlite is a great email marketing tool for new businesses or those hoping to break into new markets with their email marketing programs. Mailerlite is beyond easy to use and totes a uniquely hands-on customer service team that is willing to work with you during each step of making your first campaigns. Mailerlite also offers traditionally paid services like embedded form integration and pop-ups to free users. Mailerlite's analytics page doubles as an optimization hub and gives helpful advice on how to keep open and subscribe rates healthy.
The "lite" in Mailerlite is deceptive as the platform is anything but light on features. The service's advanced email automation tools allow for further customization and personalization than most free services.
Pricing: Mailerlite offers free users up to 12,000 emails per month and allows teams to manage up to 1,000 subscribers at a time. Free users can still access Mailerlite's helpful customer service team and many of the program's analytic tools are still included in the free plan.
Moosend
Moosend and Mailerlite occupy the same space of scooping up new businesses in need of a starter tool for email marketing. Moosend succeeds for mostly the same reason as Mailerlite but also includes its own flair in intuitive coding-free email templates and automation tools. The personalization tools which make Mailerlite attractive to small businesses are also here in Moosend blurring the line between which program is best.
Moosend beats out competition, however, in their rather advanced list segmentation tools as well as pre-built workflow templates which are as easy to build as their drag and drop email templates.
Pricing: The Moosend free plan allows for unlimited emails per contact making it an immediate better deal compared to Mailerlite. Moosend is so confident their plans are superior to the competition that they host several comparison pages between themselves and the most popular email marketing tools. The only tools not accessible on Moosend's free plan are Landing Pages.
SendPulse
SendPulse is the "no frills email marketing solution". SendPulse has the tools to build an email marketing campaign from scratch and lets the results speak for themselves. Their proprietary Automation 360 tool for automation chains is one of the most robust on the market and handily beats out competitors both in its granularity and ease of use.
SendPulse also has a tag system not seen on many competitor's feature suites. SendPulse tags allow teams to better organize subscribers and contacts based on certain characteristics like where they signed up or how long they have been a subscriber. The tags system allows for easy personalization even in bulk campaigns.
Pricing: SendPulse's free package allows teams to manage up to 500 subscribers and send up to 15,000 emails per month. The free plan also allows for one Landing Page integration making the plan a better deal for ecommerce companies. SendPulse's standard plan, however, is one of the cheapest paid plans on this list at only $6.40 per month as of July 2021. The standard plan has no limit on monthly emails and allows for 3 landing pages which is more generous than any other free plan on this list. Standard users also have access to A/B email testing making it the cheapest way to access A/B.
EmailOctopus
EmailOctopus assumes that businesses already have an email marketing tool and therefore have several tools to make switching to their platform seamless. EmailOctopus also allows for teams to input pre-existing HTML templates which is often labor-intensive on drag-and-drop programs. For a service so set on making companies switch, there are actually very few features unique to the format. EmailOctopus shines for ease of use, external app integration, access to developer API, and very generous paid and free plans.
Pricing: EmailOctopus's free plan allows teams to send 10,000 emails per month and manage up to 2,500 subscribers. The paid plans for EmailOctopus function differently from competition and finalize their monthly rate off whatever subscriber total a team may need. Because of their unique pricing structure, EmailOctopus's paid plan is a fantastic option for small teams as they can choose their own price and expand their subscriber cap alongside their business. Paid plans start at $20 per month and can go exorbitantly high in coordination with the chosen email cap. Paid users can also access EmailOctopus's priority customer support line which is well known as one of the most responsive even compared to large industry players.
Email Solutions Instead of Email Confusions
The email marketing solutions listed here are only a fraction of the thousands of web tools that offer similar services. This collection, however, is curated to cut down on the confusion that makes selecting an email marketing solution so difficult. Depending on your team's needs, one tool may better suit your business than another.
The first step to selecting a program is deciding exactly what your team needs. If you are an ecommerce company looking to drive sales directly from emails, tools like Omnimail are a must have. If you are a small team sending newsletters and blog posts to your biggest fans, then services like Moosend and Mailerlite are likely more your speed. Using a free program also allows for trial-and-error meaning that teams should not be dissuaded from trying several programs to find the best fit for their team.
If you know an email marketing solution that should be added to this list, please contact us at Kapitus.
https://kapitus.com/wp-content/uploads/iStock-1069772602.jpg
1466
2200
Brandon Wyson
https://kapitus.com/wp-content/uploads/Kapitus_Logo_white-2-300x81-1-e1615929624763.png
Brandon Wyson
2021-08-11 19:03:25
2021-08-11 19:03:25
Best Free & Low Cost Email Marketing Solutions