7 Networking Tips for Small Business Owners
You're going to a networking event this month, and if you're being honest with yourself, you're feeling a bit anxious. It's not like anyone ever taught you how to connect with others and promote yourself in school or when starting your business. You don't want to mess this opportunity up.
Here's the good news: there's no need to stress. With a little pre-planning, a positive attitude, and a motivation to build new relationships, you'll be a professional networker in no time. To start, here are 7 networking tips for small business owners.
Be Strategic
"Developing a strategy and plan for networking is vital to get the most out of your networking efforts," says Carrie Sharpe, communications consultant and speaker, in an interview for this article. She continues, "It's helpful to know in advance if there's a particular person you'd like to meet, or if you'd like to connect with someone in a specific field.
Utilize the Buddy System
Are you feeling anxious about attending on your own? Don't! Invite someone to come with you if being solo is affecting your decision to attend.
Sharpe says, "Sometimes it helps to go to networking events with a friend, coworker, or spouse. That way you have someone to sit with, encourage you, and help keep conversations going. Working as a team like that can alleviate some anxiety."
If you don't have anyone to connect with, use social media to find someone else who will be attending the event and plan with them to meet up.
Craft & Practice Your Elevator Pitch
How do you feel talking about yourself and your business? Usually, one of the hardest aspects to networking for small business owners is answering the question "what do you do?" After that, conversation flows a bit easier.
The best way to manage this is to come up with an "elevator pitch" that you can share when meeting new business. Keep it short, you basically want to sum up what your job title is, and who you help in a couple sentences. Bonus points if you can share a highlight or recent win in your introduction.
If you met me at an event you might hear, "I'm a content strategist who helps businesses use SEO and storytelling to attract the perfect-for-them customers. Just this week one of my client's articles moved to the first page of search results."
Ask Questions
Now that you know how to introduce yourself, it's important to learn how to connect with others. The easiest way to do that is to ask questions about the person you're speaking with.
"If you have the goal of building relationships, asking questions to get to know the other person is key," says Sharpe. "There is no pressure on you to do all the talking. Be a good listener, and ask open-ended questions. Learn about other people, and allow them to shine."
Not sure what to ask? Here are a few suggestions from Sharpe:
"Who is your favorite kind of person to work with?"
"What do you have going on in your business right now that really excites you?"
"Oh, really? Why is that?"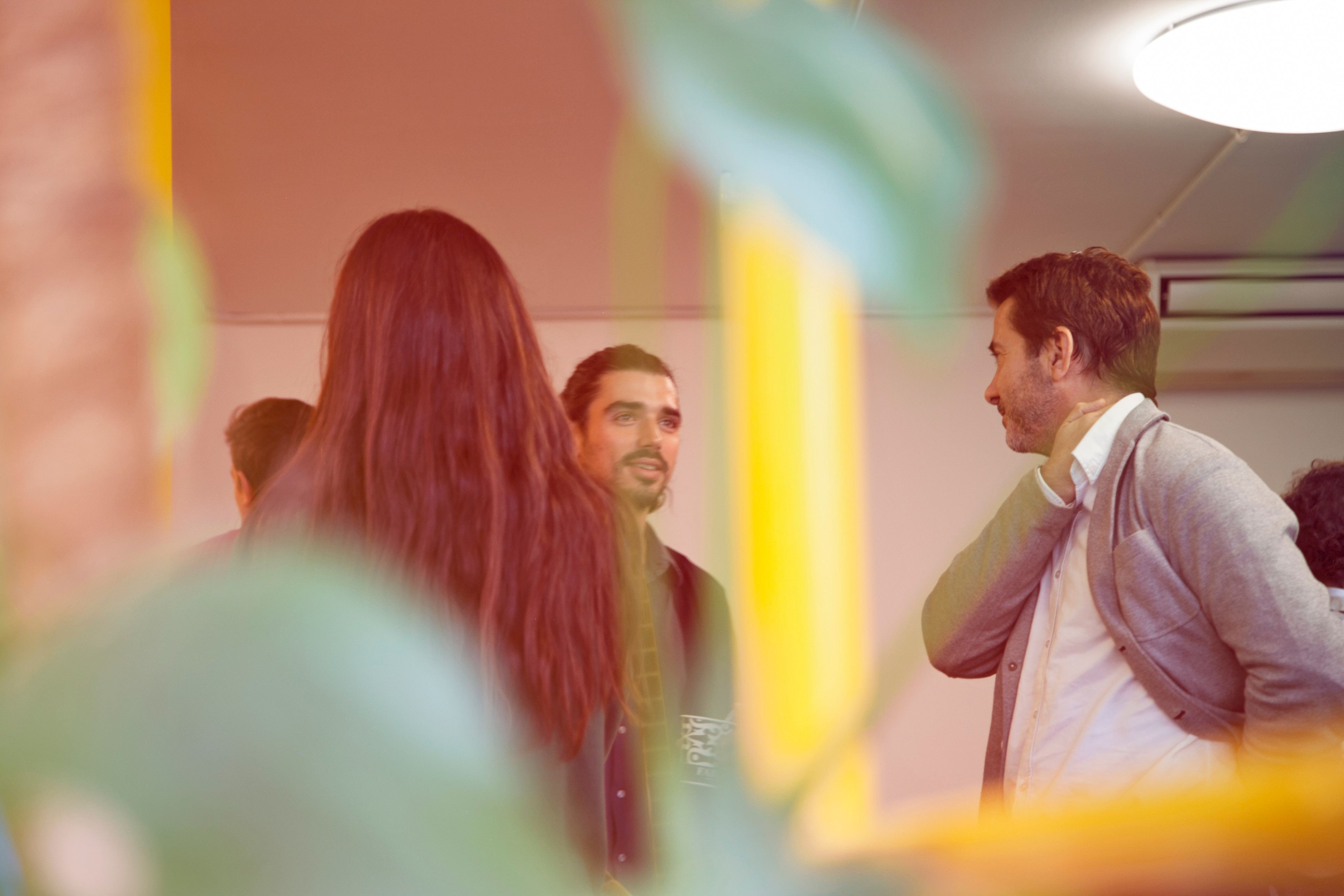 Photo by HIVAN ARVIZU @soyhivan on Unsplash
Walk the Walls
One of the easiest to implement networking tips for small business owners is to introduce yourself to the people on the outskirts instead of walking straight into the crowd.
Sharpe agrees and says, "Instead of looking to the mob of people congregating in the center of the room, find a person or two along the edge of the room and focus on them. A few strong connections trumps several surface-level ones."
End the Conversation
Sometimes leaving the conversation to meet someone new can be awkward. However, you can say goodbye in a way that's beneficial to you both. First, make sure to ask for the individual's contact information if you'd like to connect after the event. Then, ask your new connection how you can be of service to them best.
Sharpe suggests saying something to the effect of, "I know time is limited and you need to talk to other people here, too, so in our last couple minutes tell me how I can best support you and your business."
Follow Up
It's important to follow up, and right away! If you wait too long, you're risking that your new connection may forget you or mistake you for someone else they've met.
Main photo: Photo by CoWomen on Unsplash
[skyword_tracking /]
https://kapitus.com/wp-content/uploads/2019/10/7-networking-tips-for-small-business-owners.jpg
1650
2200
Erin Ollila
https://kapitus.com/wp-content/uploads/Kapitus_Logo_white-2-300x81-1-e1615929624763.png
Erin Ollila
2019-10-29 16:59:14
2019-10-29 16:59:14
7 Networking Tips for Small Business Owners