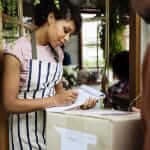 5 Tech Terms Business Owners Should Know for 2019
The internet of things, machine learning and blockchain may seem like high-tech jargon only tech gurus use, but these technologies can offer low-cost opportunities to improve a business's security, efficiency, and productivity. Here are five tech terms business owners should know for 2019.
1. Voice Recognition Technology (VRT)
If you haven't considered using VRT in your business, it may be time to learn more about it. A new report from Grandview Research Inc. suggests VRT could explode into a $31.82 billion business by 2025. Savvy businesses are using VRT in voice-activated payment systems, on devices such as Starbucks' reorder skill for Alexa, and in the form of voice-enabled virtual assistants to schedule appointments.
2. Artificial Intelligence (AI) and Machine Learning (ML)
Chances are you've heard the term AI, but ML? Artificial intelligence refers to tasks performed by machines or programs that would require intelligence if performed by people. Although you may use AI in your business for something like your online accounting system, the rise of ML, or machine learning driven by AI means automated digital programs will "learn" how to automate your most common digital tasks in order to be more effective, efficient, and productive. Some emerging ML examples for businesses include automated customer support after hours, identifying patterns in machine data that might indicate necessary repairs, and helping predict health issues based on patient data patterns.
3. Blockchain
Blockchain technology is a digital ledger system in which information gets stored in "blocks" in a public database — a "chain."
Adopting blockchain may help your business to perform more accurate, secure and efficient transactions. For example, blockchain technology is behind the Basic Attention Token, a digital advertising "token" on the Ethereum blockchain is used to improve the efficiency and effectiveness of communications between advertisers, publishers and users.
Blockchain technology might also help your business take advantage of cheaper but potentially more secure cloud-based data storage. By using encrypted data blocks, data storage companies can distribute large amounts of data over a decentralized network. This can reduce the cost of storing data with a traditional data provider.
4. Internet of Things (IoT)
The Internet of Things refers to the continuously expanding network of physical "things" connected to the Internet. And it can help your business in at least three ways.  Firstly, you could use VRT and Amazon Alexa smart speakers to manage scheduling and simple tasks.  In addition, you can look into boosting security with online security cameras and smart door locking systems that give authorized users access to buildings without keys. Finally, consider using smart tags on items to boost efficiency and tracking when shipping goods to customers.
5. Bring Your Own Device (BYOD)
Allowing employees bring to their own devices to use for work — laptops and phones, for example — it can help lower your costs, simplify a remote-work arrangement, and may even help your staff be more productive. However, One drawback may be that allowing employees to BYOD might leave your business open to digital security issues, so ask for expert help when setting up BYOD policies and procedures.
Advances in technology continue to accelerate, which can deliver opportunities for business owners over their less-attuned competition. Consider learning more about these technologies to see how they can help better position your business in 2019.
https://kapitus.com/wp-content/uploads/2020/05/5-big-ways-to-free-up-capital-with-smarter-purchasing-150x150-1.jpg
150
150
Bernadette Abel
https://kapitus.com/wp-content/uploads/Kapitus_Logo_white-2-300x81-1-e1615929624763.png
Bernadette Abel
2018-12-12 00:00:00
2022-02-16 13:48:42
5 Tech Terms Business Owners Should Know for 2019