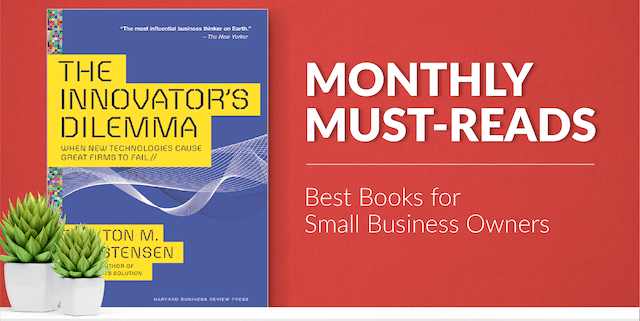 As a small business owner, do you consider how exploring new ideas can lead to future success? If making time for continuous learning isn't at the top of your priorities, you're not alone. And we want to help. Reading or listening to business books can offer new perspectives and help you understand classic business lessons. So, follow our Monthly Must-Reads series! In this series, we share the best books for small business owners. We'll save you time by helping you determine whether each book is worth your attention. For each featured book we:
Identify exactly which types of business owners will benefit from reading it
Summarize the main points
Share key take-aways and reader reviews
This month, we cover The Innovator's Dilemma by Clayton M. Christensen. Check out the end of this article for our past must-reads.
Business Book:
The Innovator's Dilemma, by Clayton M. Christensen
Focus:
To uncover two innovation types and to understand the purpose of and necessity for each of them.
Main Idea:
When companies disregard opportunities for disruptive innovation, they risk going into the shadows of more inventive start-ups.
Great for Small Business Owners Who:
Develop innovative solutions for niche markets, or have long-standing businesses and want to protect themselves from dissipating.
Synopsis:
The Innovator's Dilemma identifies and explains two types of innovation: sustaining innovation and disruptive innovation. Sustaining innovation is the ongoing effort of listening to and improving from customer feedback. In this way, it satisfies customer's current needs. Disruptive innovation helps companies evolve, to meet customers' needs–often in an underserved market. Examples include the transition from digital to smartphone cameras, GPSs to navigation apps.
Christensen goes on to explain which types of companies typically focus on disruptive innovation and which ones lag behind—and why. He offers strategies for how both long-standing companies and new start-ups can successfully explore and benefit from disruptive innovation.
Key Take-Aways:
Large, well-resourced companies are more likely to ignore disruptive innovation and suffer because of it. They may not even notice niche markets. They might think that these markets aren't offering enough rewards to compensate for the lack of credibility. These companies should continue their sustainable innovation efforts. They should also start paying attention to how niche markets want to use their products.
For start-ups and small businesses, disruptive innovation offers huge opportunities. They're often first to market. Targeting small niche markets offers a more forgiving, cooperative and engaged customer base. Disruptive innovators don't directly compete with larger, better-funded market leaders for customers. This means they have a higher chance of growing surprisingly quickly and unchecked.
Pursuing disruptive innovation can help companies take–or keep–their place as market leaders of the future.
"Clayton Christensen's The Innovator's Dilemma…remains one of the most important business leadership books on the market… The pace of technological innovation has increased drastically… [but] the foundational principles remain the same—when companies are doing everything right, they can still lose their position of leadership in the market. Companies are incentivized to act in accordance with what their customers want, and if they are not careful, that mentality can preclude them from taking advantage of disruptive opportunities that their current customers are not yet interested in. Christensen's warnings should be heeded by leaders and managers at all levels of the organization…. I look forward to reading about how the Innovator's Dilemma can be addressed in this age of near-constant innovation and rapid technological advancement."
"I've been involved in innovation most of my careers, and now wish I'd read this book much earlier. The simple but powerful thesis of the book is backed up by data and case studies from disparate industries. Like many business books it is a bit repetitive at the end… But the ideas and usefulness are five stars."
Monthly Best Books for Small Business Owners:
August, 2019 – Blitzscaling
September, 2019 – The E-Myth Revisited
October, 2019 – Influence: The Psychology of Persuasion
November, 2019 – Built to Last
December, 2019 – Multipliers
January, 2020 – Start with Why
February, 2020 – The Five Dysfunctions of a Team
https://kapitus.com/wp-content/uploads/2020/03/InnovatorsDilemma-1.png
436
640
Anne Shaw
https://kapitus.com/wp-content/uploads/Kapitus_Logo_white-2-300x81-1-e1615929624763.png
Anne Shaw
2020-03-24 10:44:34
2021-09-22 18:10:08
Best Books for Small Business Owners Series: The Innovator's Dilemma